TANGO features most dance partners yet
Posted on November 18, 2015 by Taber Times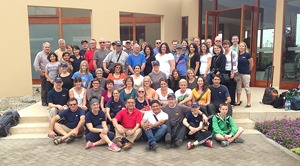 Submitted Photo
Nikki Jamieson
Taber Times
njamieson@tabertimes.com
Fresh from their first Peruvian trip, the members of TANGO call their ten-day aid trip a success. With 64 members in their party, the Oct. 16-26 trip makes the group's maiden Peru trip the largest that the medical foundation has ever coordinated yet.
The Taber Assisting Nations through Global Outreach foundation – or TANGO for short – team first landed in Lima, Peru, and then traveled to the cities of Pisco and Chincha to set up their main shop in a clinic sponsored by the Peruvian-American Medical Society.
TANGO had decided to go to these two cities because they were still suffering from damage caused by the 2007 earthquake – Pisco in particular had suffered the most damage, with 85 per cent of its buildings destroyed and approximately 430 dead, a quarter of whom died when a cathedral collapsed.
Another factor was that Peru is home to the Atacama Desert, which is considered one of the driest places in the world, and the average citizen is unable to grow their own food. While big farms do service the area, there was a noticeable trend of high-salt diets during TANGO's visit.
In addition, with residents making an average income of $6-700/year, medical help was often out of reach for many, since a $20 trip to the doctors was something that they could not afford.
"It's not that it was impossible to get care, it was expensive. The area was in ruins still, there were piles of rubble – this was from eight years ago – it was tough… It didn't look like a city there, it was just piecemeal," said Dr. Ryan Torrie, president of TANGO and member of the oscopy team. "There were these little houses patched together with bricks, and some people have kind of like thatched walls, mats for walls. It was tough. Everyone was in difficult circumstances."
PAMS, after the earthquake, had built a medical clinic in Chincha – since there was no medical infrastructure in place due to the quake's destruction – that is staffed with volunteer doctors. TANGO was able to use this clinic as their home base of sorts for their surgery, cataract surgery and oscopy teams, with their dental and general medicine groups venturing out to different areas for treatment.
"We were looking for places that were in need, and could benefit from the services that we provide," said Torrie. "We found an area that had a need, and infrastructure that could accommodate our group."
Some of common medical problems the teams encountered down there include dental decay, diabetes, high blood pressure, gall bladder issues, heartburn, cataracts and other vision problems.
There was also an endemic among the local population of the helicobacter pylori bacteria, which causes stomach ulcers. But the general medicine team, who administered the treatment, is unsure if the treatment will stick.
"It's usually a combination pack of two antibiotics and a stomach acid reducer, and then you end up taking it for two weeks, in hopes of that will irradiate it," said Stefanie Nicol, from the general medicine team and TANGO secretary. "However, here, we usually recheck in three months, to make sure it has in fact cleared, but I don't know about their follow-up process there… With it being so prevalent, I'm not sure it would clear that well anyway."
With the tests and medicine for the bacteria's treatment being very expensive, TANGO is unsure whether residents could get proper follow-up treatment, but those who received treatment "were thankful who can get it."
While TANGO provides their services for free, sometimes treatment was still too expensive for people who needed it, since the clinics they worked with would charge for the cost of the prep work.
For example, while TANGO would pull teeth for free, a clinic might still charge $6 for coming in and equipment use. A colonoscopy might run up to $30 for the medicine and prep work. These costs, when you are making $600 a year, add up, making health care something out of reach for many, even with TANGO waiving most of the fees involved.
"Which, keep in mind, is a fraction of the price, of what they would have been charged anywhere else," said Nicol.
"We provide our service absolutely for free, but sometimes a local clinic would charge if they need a medication or whatever, like the prep they would charge," said Torrie. "The clinic would waive any fee for getting into the door if they couldn't afford it, but just even these little costs were insurmountable for some people."
Despite this, those who did show up to the clinics were given the full TANGO treatment, and expressed deep gratitude for their help. Torrie remembers one man in particular, who was deaf, blind and mute. The cataract surgery team removed the cataracts from his eyes, and he was overjoyed he could see again.
"It was quite miraculous. The one optometrist, he was getting huge hugs, he (the patient was) rubbing his tummy," said Torrie. "It was pretty funny."
In addition to the medical staff – which ranged from surgeons to eye doctors to dentists to pharmacists – there were also non-medical personal attending as construction workers and educators, who preformed tasks like fixing plumbing and building a laundry room for the local orphanage, and working with the local school and handing out school supplies.
"It started with surgical teams mostly, surgical, medical, dental teams. But then we had a lot of community people who were like "Well, we would like to be involved too", and so we started – even on our first trip actually – you know, this came up as we were starting the organization. But we decided, with our community members, we could do construction projects at the same time," said Torrie.
"Helping the orphanage, the kids were so grateful, it's huge. The construction team was really appreciated, and the educational team, they were really touched by the orphanages and the hospitals… But everything was just nice, to be able to help."
TANGO had fundraised $45,000 for the trip, which went towards dental equipment, school supplies, general surgical equipment and glasses. Each member of TANGO pays for their owns expenses involved with going on the trip, so the amount fundraised is used solely for equipment and medication.
Donations were also made to the group. For instance, Alcon Canada donated cataract lenses, medication, lab testing equipment and medical supplies, Health Partners International provided TANGO with about $70-80,000 worth of pharmaceutical drugs and the Royal Alex Hospital in Edmonton donated cataract surgery instruments.
TANGO also donated a lot of the equipment they brought with them, such as the mobile dental equipment, to the local hospital in the area, and had their surgeons train the hospital's staff on how to use it.
TANGO's next trip will be from March 6-12, 2016, when they will be going back to Mexico to check up on patients from last year's vistit as well as visit the rehab centre and senior home there. Next fall they also plan on going back to Fiji for two weeks.
They will be having a fundraising gala on Feb. 6, 2016. at the civic centre It will be a black tie affair they consider their biggest fundraiser for the year. Tickets will be available at the Taber Clinic, Taber Dental and Taber Vision.
For more information, you can visit their Facebook page or their website at http://www.thetangofoundation.com.