Local cadets part of Canada/U.S. ceremony
Posted on November 18, 2015 by Taber Times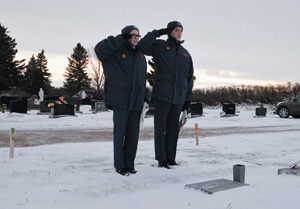 TIMES FILE PHOTO
J.W. Schnarr
Southern Alberta Newspapers
Two brother nations came together to remember their honoured dead in a solemn ceremony at the Vimy Ridge Armoury on Saturday.
More than 100 Royal Canadian Air Cadets (including Taber's), Royal Canadian Sea Cadets, and Royal Army Cadets, along with 60 American Civil Air Patrol Cadets, along with a number of dignitaries and members of six Silver Cross families came together for HART – Honouring Allies and Remembering Together. The ceremony recognizes the legacy and service of all veterans on both sides of the Canada and U.S. border.
Kevin Robinson, president of the Alberta Provincial Cmte, Air Cadet League of Canada, said the event is intended to honour the Silver Cross families.
"We're extremely pleased we have so many Silver Cross families and mothers here today," he said. "The reason why we have the Hart ceremony is to honour them and their sacrifices. This weekend is about coming together and remembering not only the fallen, but the ones that serve to this day in support of our freedom."
Lethbridge Mayor Chris Spearman said he appreciated the fact two nations could come together for a commemorative event.
"It's a tremendous time to reflect, to remember, and an important time to say 'thank-you' for your service to our veterans, and to those who are currently serving," he said.
Taber Mayor Henk DeVlieger said he was proud to see air cadets from that community taking part in the event.
"We are very proud, and very willing to help them out," he said. "It's a very good cause. We're also very happy to see we can build friendships with our neighbours to the south, and I think it will grow more."
"We're all here to celebrate freedom, which is very dear to us," he added.
Comrade Kent Perry, Branch President of the Lethbridge Legion #4, said he was proud to address the Canadian and American cadets in attendance. "You are our future leaders and guardians," he said. "I congratulate you on being the largest HART ceremony in North America."
Colonel Bob Bost, Rocky Mountain Legion Region Commander, Civil Air Patrol spoke on behalf of American Veterans on his first time attending the event. During his speech, he turned to thank the Silver Cross families personally.
"Thank you all for your national treasures," he said. "We will always honour what they've done for us."
Colonel Dan LeClaire from Maine was one of the people who first started the ceremony.
"We started this ceremony about nine years ago between our two countries," he said. "It has grown now across North America."
As part of the ceremony, memorial wreaths were presented to the families. Nearly 40 cadet groups from southern Alberta and the U.S. took part in the event.