Hart's foresight inspirational with award
Posted on November 18, 2015 by Taber Times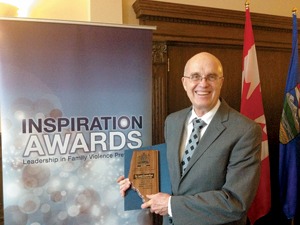 Submitted Photo
Greg Price
Taber Times
gprice@tabertimes.com
Simply having an inquisitive mind led to Charles Hart receiving a 2015 Inspiration Award on Friday in Calgary.
Each year during Family Violence Prevention Month, extraordinary Albertans receive awards to honour their leadership in their commitment to ending family violence, sexual violence, child sexual abuse and bullying.
Hart, who is the program manger of the Taber/Vauxhall Victim Services Unit, got the award after discovering a sexual assault victim in southern Alberta could not access counselling until after her court proceedings.
"Dr. Hart was the catalyst to ensure Albertans in rural communities in southern Alberta have access to the services they need," said Julia Radke, Alberta Justice and Solicitor General Victim Services, the person who nominated Hart for the award.
While Hart was trying to refer services to a sexual assault victim in the area, he discovered there was a service gap.
"I learned that sexual assault victims were not allowed counseling services until after their court cases were concluded. The court case involves retelling the story and it is retraumatizing in that case," said Hart. "I started to ask questions, like 'Does this happen in Edmonton, no. Does this happen in Calgary, no.' That's because they have sexual assault centres and they have different relationships with their police services."
Hart shared that information with the agencies that provided counselling in southern Alberta and urged them to rethink their protocol.
"One key agency for sexual assault victims did change their protocol," said Hart of the change that occurred officially in early 2014. "Now we do have counseling as soon as they provide their pure-version statement to the police, then they are open to receiving counseling. We have had tremendous support since then. To me, this award was unexpected. All I did was ask questions and keep ask questions and then shared information. I shared what Edmonton does, what Calgary does, these are the ways they do it."
Now victims can receive counselling from a sexual assault counsellor who comes to Taber every week.
"That has been a great change," said Hart.
As Hart continues to ask questions to constantly improve Taber/Vauxhall Victim Services, it is all rooted in caring, which is a pre-requisite for the job.
"You have to be able to show compassion. With two people experiencing trauma, whether that is as a victim of crime or a personal tragedy that has occurred, tt is showing them that compassion and helping them through those troubled times," said Hart. "That to me is what keeps me going."
Hart added what Victim services tries to provide is support, and if they want information, they try and answer their questions for them and refer services.
Taber/Vauxhall Victim Services is always looking for volunteers who like to help people through times of trauma.
"With all that's going on in the world, Victim Services is needed now more than ever in helping to assist," said Hart.
E-mail tabervsu@taber.ca for more information on volunteer opportunities.