Gyepesi tabbed as new school resource officer
Posted on October 21, 2015 by Taber Times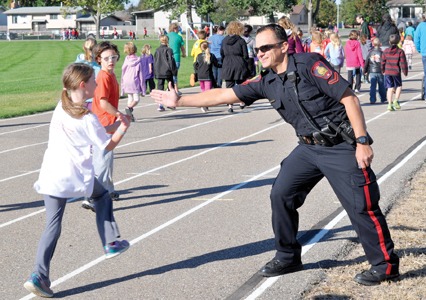 TIMES FILE PHOTO
By Nikki Jamieson
Taber Times
njamieson@tabertimes.com
Cst. Dave Gyepesi is Taber Police Service's new school resource officer for the Horizon School Division.
He took over the position from Cst. Dave Dube, who finished his three-year term as the school resource officer, on Sept. 1.
"It's an excellent position where you get to deal with kids and make a difference," said Gyepesi. "It's a fantastically rewarding job, so I had to jump on it."
As the school resource officer, he will the police liaison with the local schools, taking care of matters like threats assessments, school or family issues with students, criminal activity and assisting when needed. In addition to working with kids in the schools, he also helps out outside of regular hours as well. Gyepesi recently returned from a camping field trip, and he involved extracurricular activities as well.
"It's basically a relationship position. So having a good relationship with the school administrators, with the teachers, with – and most importantly – with the kids," he said. "The high fives you get every day, you go into an elementary school and the kids just look up to you, it's just very rewarding."
Gyepesi takes over this role this at a time when his kids are in elementary school, and they think it's great that dad gets to hang around their school as part of his job.
"They have grins from ear-to-ear, they love that dad is in the schools, and they're really happy so that puts a smile on my face."
That doesn't mean the job doesn't have its challenges; getting kids with troubled backgrounds to open up to him is the toughest part of his job.
"Kind of breaking those barriers, I've found that a little bit difficult," he says. "But I'm a personable guy, so I tend to be able to talk to people and hopefully help and make a difference with these kids."
While adults can act like kids sometimes, there is a different mindset to keep when working with kids.
"Working with kids, you have to keep in mind there's an amount of innocence, an amount of influence that some of these kids have, whether it be good parenting or bad parenting, good experiences or bad experiences, you have to work with those, what they've come with and their background in order to make a difference with them."
"It does make me hug my kids a little tighter, and remember the simple things."
In addition to his work as a school resource officer, he still has his regular duties as a senior constable, and is president of the police association and supervisor for the by-law department.