Political support carved into field
Posted on October 7, 2015 by Taber Times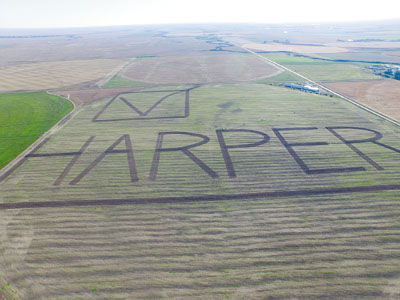 Times photo submitted
By Greg Price
Taber Times
gprice@tabertimes.com
It is truly a sign of the times that it is federal election season.
As the time inches closer to which candidate Canadians will cast their vote for, campaign signs are everywhere the eye can see. One in particular is hard to miss on farmer Bill Tamminga's land.
"I did it a (few) weeks ago now. It took us about a few hours. We used a 40-foot cultivator," said Tamminga of his pro-Stephen Harper sign on his farmland. "We saw an ad that said 'Anyone But Harper' and we strongly disagreed with that ad. We'd like to see him back in running this country. We think he's the best guy for it. He's not perfect, but he's proven a lot of good things. I'm more for him to do well in this country than any of the other ones."
Potato harvest was interrupted with some rain so Tamminga thought then was as good as any time in making his political statement with his farm field campaign sign.
The Vote Harper sign was such a huge undertaking, when people saw the finished product from a drone picture that flew overhead, many couldn't believe what they were seeing.
"It's a fair size. It's 2,500 feet wide and about 500 feet tall. There was some discussion online with people thinking it was fake or photoshopped or something," said Tamminga.
While it is obvious which way the Tamminga farm will be voting this federal election, Tamminga hopes every Canadian will go out and exercise their democratic right when the vote comes Oct. 19.
"My brother went on a trade mission with him (Harper) to Europe, and he was really impressed with him He wants what's best for Canada," said Tamminga. "I hope this encourages people to go out and vote."