New firefighting training centre celebrated
Posted on October 7, 2015 by Taber Times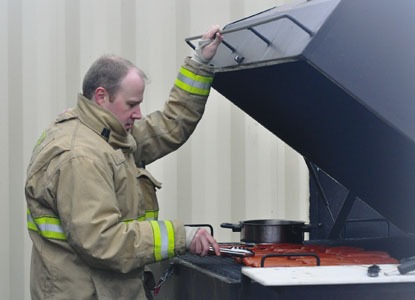 Times photo by Greg Price
By Greg Price
Taber Times
gprice@tabertimes.com
Taberites got a first-hand look at the official unveiling of the Taber Fire Department Training Centre on Saturday, located at 5900 69th Avenue.
"It''s a huge hats off to Taber Charity Auctions. They are the ones that bought the building and the Town of Taber donated the land and came up with the extra dollars to put into the infrastructure and fencing," said Steve Munshaw, fire chief for Taber Emergency Services.
It is a boon not only for the Taber volunteer fire department, but all the other volunteer fire departments in surrounding areas as well.
"For our training needs, our firefighters can actually go to a location locally within a very short-period drive and train for four-story, for balcony rescues, for actual live hot fires and simulated search techniques, confined space training, roof pitches and rope rescue techniques all within one facility," said Munshaw.
"You can come in her eon any fire training night and use it without having to drive another 50 kilometres which takes you a half hour to 45 minutes one way and another half hour to 45 minutes another way and you only get those guys (in Lethbridge) for two hours once a week. We get more training in this way and we can bring in more people."
Munshaw noted how the Lethbridge fire training facility is a wonderful facility, but you have to book around their union-structured firefighter training times.
"Their trainers work Monday to Friday day shift. That doesn't work for volunteers. Volunteers need to come in on a Saturday, they need to come in on evenings," said Munshaw.
"Can we do that with this new facility? Yes. This is going to have a huge impact. Education and experience, now you are not trying to simulate something in a wash bay."