Health services in Taber get $9 million-dollar boost
Posted on September 30, 2015 by Taber Times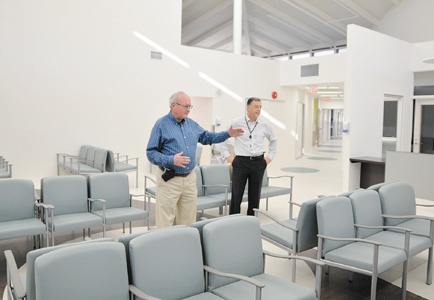 Times photo by Trevor Busch
By J.W. Schnarr
Southern Alberta Newspapers
Residents in the community of Taber and surrounding area can look forward to a big upgrade in local healthcare delivery with the opening of a two-year, $9 million renovation to the hospital's long-term care wing.
The new area, which opened Monday, will be the new home of the Taber Clinic, in addition to a number of other local services, including: Family and Community Support Services, Addiction and Mental Health Services, Children's Allied Health, Home Care, Environmental Public Health, and Alberta Health Living Program. The 2,600 square feet site of the renovated area is located on the east side of the Taber hospital, formerly a 70-bed long-term care unit.
"This was part of our plan all along, that we would create this opportunity to bring the physician clinic, AHS community-based programs, and Family and Community Support Services together in this space," said Grant Walker, senior operations officer with community programs for South Zone Alberta Health Services.
"We believe it creates an excellent opportunity for our patients to come to one place for all their health care needs in the community. It also provides a much better opportunity for the health providers to support the patient as a team."
"It's a beautiful space," said Taber clinic manager Michael Brand.
"It's going to be really nice to work in here."
"I think it's fantastic," said Wade Steed, lead physician for both the clinic and the hospital. "It really is sort of what you would call state-of-the-art, or leading edge. We've looked forward to this for a long time, and I think it's really going to provide opportunities to improve care, and make a better facility for patients to come to."
Steed said he believes it will be a beneficial addition to the community. From the standpoint of the clinic, he said the facility was definitely needed and that changes needed to be made.
"I think it's great that we've partnered with AHS here," he said. "For us, and for the other healthcare providers that are going to be here, I think it's going to be a great opportunity."
The majority of the long-term care residents have been moved on to the Linden View supportive living facility operated by the Good Samaritan Society. There are some long-term care residents still at the hospital, and have been moved to a redeveloped area that was formally an acute-care wing, adjacent to the active acute care wing.
"This created a lot of space in the hospital that we could redevelop through this project, and now pull in services that previously were in different facilities that were around the community here," said Walker.
Brand said the clinic has been in its current space for 47 years, and discussions about moving began about 10 years ago. He said he is looking forward to the integration of services, and what that means for local residents.
"It's going to be a great boon to the patients," he said. "As well as for us."
Brand said the the current clinic location has issues with parking and space.
"In the old facility, it was a 1960s building," he said. "And healthcare has changes exponentially since then, with the advent of electronic medical records, and all the other instrumentation that we have, it became very difficult to work in that building." He noted small rooms and doorways, and narrow hallways were also issues staff and patients ad to deal with.
"Hopefully we have eliminated that here," he said.
Brand cited an example of a new mother who previously would have about 15 visits to both the hospital and the clinic following the birth of a child. With the new integrated services, those visits can be cut down to about six, and they will all be in the same building.
"You'd only have to get the baby in and out of the car six times, as opposed to 12 or 15 times," he said.
The integration will also allow home care nurses to directly interact with doctors, instead of trying to track the down on the phone or through email.
"It's the same services with better access," he said. "We've got greater capacity here. There's a lot more room to see our patients."
The $9 million in upgrades include more capacity for clinical space, as well as different capacities designed specifically for the services being provided. Walker said from his understanding, the stakeholder groups moving into the new area are looking forward to it.
"I think they are excited about the change," he said. "There is lots to be done over the next few days. They have been working together to understand how to provide their services in a better way."
Walker said the new space is similar to developed spaces elsewhere in the province.
"What we're trying to do in Taber is not only co-locate, but really integrate our services," he said. "So we've been very purposeful about having those teams meeting together, to understand how each other does their work, and how we can do it more efficiently together."
Brand said he expects Monday's opening of the facility to the public to be a chaotic one.
"There's probably going to be a little bit of chaos in here as we try to figure out what's going on," he said. "But we'll get through the day, and get everything done. I hope people enjoy it, and see the benefits to the community."