CPC hopeful hits the campaign trail
Posted on September 2, 2015 by Taber Times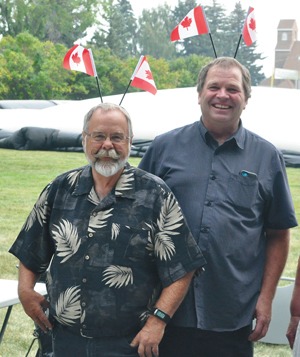 Times photo by Greg Price
By Trevor Busch
Taber Times
tbusch@tabertimes.com
An early federal election call has caught two of the nation's major parties flat-footed without candidates in the new Bow River riding, but the Conservative Party of Canada's Martin Shields has been ready to hit the hustings for close to a year.
Serving as mayor of the City of Brooks, a position from which he has taken a leave of absence for the federal election campaign, Shields outlined his motivation for seeking higher office.
"There was a redistribution of seats. We really worked to try to stay with the Medicine Hat riding, but that didn't work, so as they redistributed and came out with a final map that showed our constituency, it was different. So there were a lot of us that were involved municipally looking at it, and said 'Who would we like to have represent us?' And the discussion was about having somebody who lives in the constituency and understands some of the parts of the constituency. It was suggested by a very supportive group that I seek the nomination because I have some understanding, or have worked with a lot of people in this region, to let my name stand for the nomination. Having done that, I was honoured to win that nomination," said Shields.
Shields bested his opponents for the Conservative Party of Canada (CPC) nomination following a member vote in September 2014, defeating high-profile candidate Rob Anders. A long-time Calgary MP, Anders had parachuted himself into the riding following a defeat for the CPC nomination in the riding of Calgary-Signal Hill earlier in 2014.
Shields viewed two key issues to be of most concern to residents of the Bow River riding in 2015.
"One of the things that is important to me, and the people I talk with, is representing your constituency and the people in it. So when people said 'what are the issues, why did you run?' I said what are the issues of the people that live here? And so that's what's always been important to me, is what are the concerns of the people. So when we talk about this constituency, we're talking about agriculture — irrigation, niche crops, cereal grains, beef. The resource sector is an important factor. So here's what we're talking about federally — the resource sector, the energy sector, how do we get our products developed, and how do we get them to market? We're one of the few places in the world that produces more food, resources and energy that we can use, so what's important to me is how do we support those at a federal level, and how do we get our products to market?"
A new creation that has become official during the present federal election, the federal Bow River constituency spans a huge swath of southern Alberta, including the population centres of Strathmore, Brooks, Chestermere, Taber and Vauxhall, and has a primarily agricultural focus.
Drawing on his municipal experience, Shields highlighted the question of infrastructure, which has become a growing concern for rural municipalities in Alberta in the past decade.
"Municipally, infrastructure of course. If you don't have the roads, bridges, and services for people that live in your constituency, those products aren't going to get to market. So the municipal side, the infrastructure, is a critical piece."
The CPC caucus has a strong core which represents the people and values of Western Canada effectively, according to Shields.
"I think there is a very strong voice when you go across Alberta, Saskatchewan, and into Manitoba, in the sense of agriculture. Agriculture has a very strong voice at table for those things meaningful to the ag and resource sectors. I think there's a very strong voice there, and I think it reflects in policies. I think we have a tremendous number of people in the Conservative Party, and in the ministry, like the minister himself, who is a farm operator in Saskatchewan, so I think the Conservative Party does have a strong agricultural voice at the table."
Shields hopes to visit as many areas of the riding as possible during the 78-day election campaign, one of the longest in Canadian history.
"I've been doing that, and I will continue to do that, whether it's Taber, or Vauxhall, but also Rockyford, Acme, Chestermere, Strathmore, Vulcan, Brooks and areas around it. In the last two months I've been all over the constituency."
Shields dismissed perceptions the CPC might need to re-engage with voters after more than a decade at the commanding heights of power in Ottawa.
"That's always a good question in the sense of parties. If you don't reflect and change — and I think parties do, and have — we used to be the Progressive Conservative Party, and the Reform Party. As they became the Conservative Party, they've changed, and I think what you've seen is constant change over every election, of people that come to the party, they bring those different things that are important to them, so the party continually renews."
Surprising results in the provincial election campaign this spring, which saw an orange wave of NDP crush the long-ruling PCs at the polls, could have an impact on federal fortunes in October, admitted Shields.
"I talk to a lot of people, and what's important to people is families, work, what's happening in the communities. I think there's a lot of people that are very reflective of what happened in the election, but also believe the Conservative Party reflects their beliefs, in the sense of family, people having money to spend making those choices. It's in my own beliefs, and I see that in a tremendous amount of people in the constituency. It reflects the Conservative Party federally."
Shields, who has served on Brooks city council since 2004, praised the diversity of the new Bow River riding.
"What a tremendous number of people we have in this constituency. One of the good things that I've seen, being all over, we have so many great people in this constituency, out there working, innovative, doing creative things to make their businesses or communities, or ag businesses, different or better. It's unbelievable what we've got as resources and people in this constituency — phenomenal people."
If successful in a federal election bid in 2015, Shields will be forced to step down from his position as mayor, likely sparking a municipal by-election race in that community.
The Conservative hopeful encouraged all residents of Bow River to get out and cast a ballot on Oct. 19.
"Get out and vote. Don't take anything for granted, participate and be part of it," said Shields.