Chicago sound enlivens blues club
Posted on August 26, 2015 by Taber Times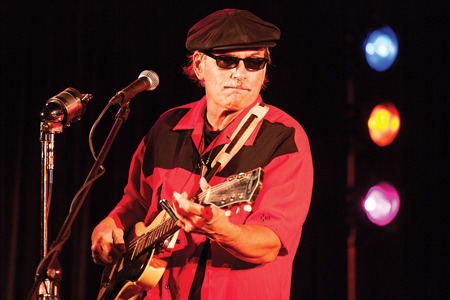 Times photo submitted by Cody Wheeler
By Trevor Busch
Taber Times
tbusch@tabertimes.com
For the second installment of the 2015-2016 performance season, Blues at the Bow featured a scorching line-up of classic and contemporary blues in the person of Studebaker John and the Hawks.
Blues at the Bow, located in the historic Bow Theatre in Bow Island, is a down-home club in the tradition of juke joints of old. Cranking out rocking live blues, it has garnered the reputation of being a listener's venue and celebrated 20 years of great music in 2014.
A virtuoso harmonica master as well as a blues/rock slide guitarist, John hails from Chicago and took that city's flair for "electric blues" to a small-town venue on July 25, while adding a hard-edged rock injection to numerous tracks.
Studebaker John and the Hawks played a lively and well-received two set show at Blues at the Bow, impressing a toe-tapping crowd with his vocal range, guitar skills and style, and especially his command of harmonica.
Over the years, John has played with a number of Chicago blues luminaries, including Big Walter, Jimmy Johnson, Buddy and Phil Guy, James Cotton, Jr., and Wells and Hound Dog Taylor, building an impressive reputation as an exciting, propulsive guitar impresario, as well as an excellent blues harpist and vocalist.
A sought-after sideman and session musician, John has provided guitar and harp backing on 1990's blues albums by The Yardbirds and Pretty Things, before moving on to record his own music.
Discography: Straight No Chaser (Retread Records 1979), Rockin' the Blues '85 (1985; reissued Double Trouble, 1994), Born to Win (Double Trouble, 1991, recorded in Belgium), Too Tough (Blind Pig Records, 1994), Outside Lookin' In (Blind Pig, 1995), Studebaker John & the Hawks (Blind Pig, 1996), Tremoluxe (Blind Pig, 1996), Time Will Tell (Blind Pig, 1997), Howl with the Wolf (Evidence Records, 2001), Between Life & Death (Avanti Records, 2004), Self-Made Man (Avanti, 2006), Waiting on the Sun (Avanti, 2008), That's The Way You Do (Delmark, 2010), Old School Rockin' (Delmark, 2012), Kingsville Jukin' (Delmark, 2013).
For the club's next show of the 2015-2016 season, Blues at the Bow will be featuring a Halloween double-bill on Oct. 31 with Juno Award winner Steve Hill followed up by The Perpetrators.
Tickets will be available online at http://www.bluesatthebow.com.