Fundraising wish trail ride still taking registrations
Posted on August 12, 2015 by Taber Times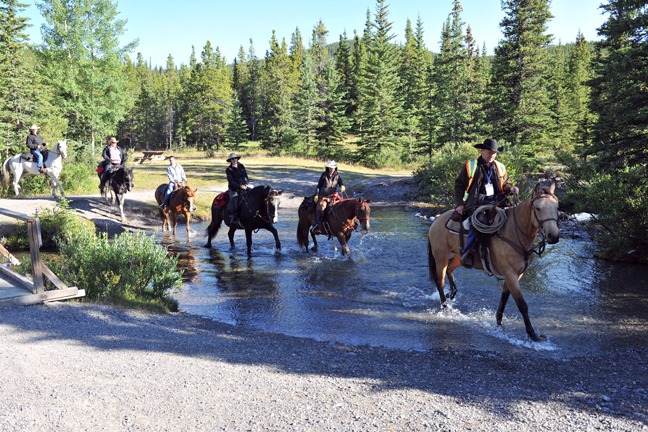 By Greg Price
Taber Times
gprice@tabertimes.com
For those wanting to saddle up and help a good cause at the same time, the Alberta Wish Ride, in support of the Children's Wish Foundation, has something for you with a trail ride that will start in Barnwell, and there is still time to sign up.
"Interest has been really good. We have 50 riders booked already. We have riders from Airdrie, Beiseker, Medicine Hat, Lethbridge, Brooks, we got riders coming from everywhere," said Leslie Olson, a co-organizer of the fundraising trail ride that will happen on Aug. 22
The Alberta Wish Ride has been operating since 2009, operating a one-day fundraising event for the Children's Wish Foundation in several locations.
The day consists of an escorted horseback ride through some great Alberta countryside, food, entertainment and prizes.
Leslie Olson and her committee will be hosting a trail ride that will leave from Barnwell and link up with trails around the Taber area. The day will start with registration and a pancake breakfast at 9 a.m.
All activities will take place at the Taber Pro Rodeo grounds (NE 1/4 1-10-17 W4) , but the ride itself will leave from Barnwell to link up with the trails. Riders must supply their own horses.
There are two trails available with a short and a long ride.  The long ride is a much harder trail, and is for experienced riders and horses only. After the ride, one will return for a BBQ supper, presentation of a saddle, live entertainment, and auction and raffle prizes at the Taber Pro Rodeo grounds. Entertainment is free both nights which includes a free drive-home service both nights, although a gratuity is encouraged as part of the fundraiser.
"This part is open to the public where you do not even have to ride if you want to support the cause. There is a silver donation for the breakfast and a $10 charge for the supper," said Olson. "We're hosting a band called the Chillbillies where people can have free camping on the rodeo grounds."
Camping on site is available as there will be a welcome social on Friday, Aug. 21 from 7-10 p.m. at the Taber Pro Rodeo grounds which will also feature beer gardens.
"It's the camaraderie and the different places people can ride. It's people getting together and enjoying the outdoors with their love of riding while supporting a good cause," said Olson of how the trail ride has been able to attract so many riders already.
You must have a minimum of $60 in pledges to participate. Every $25 you bring in gives you a ticket to win a saddle, donated by Across the Line Electric. Olson won the saddle prize at a trail ride at Sierra West in 2014 which got her interested in organizing the event in Taber.
Established in 1984, The Children's Wish Foundation of Canada is a national non-profit organization dedicated to fulfilling a favourite wish for children diagnosed with high-risk, life-threatening illnesses.
Since its inception, Children's Wish has granted more than 18,000 wishes for children and their families and fulfills approximately 1,000 wishes annually across Canada — each being an individual adventure, carefully structured to meet the needs of that particular child.
To register for the Alberta Wish Ride in the Taber area, you can log onto http://www.albertawishride.ca.
"People can register right up until the time before the ride. We would prefer people get registered as early as possible so we know food count," said Olson, adding she is not only amazed at the number of riders who have already registered for the event, but also the community support of the initiative.
"I've only been turned down like three times (for corporate donations). Everyone is opening up and saying 'you bet.' It's been overwhelming. We have over 100 raffle and auction items and they are big items.
"We got a condo (stay), a fishing trip, a full beef cut and wrapped. Things will probably start at 4 p.m. (on Aug. 22 at the pro rodeo grounds) with the raffles and silent auction if people just want to go to that with the supper."