Ceremony marks peacekeeping tragedy
Posted on August 12, 2015 by Taber Times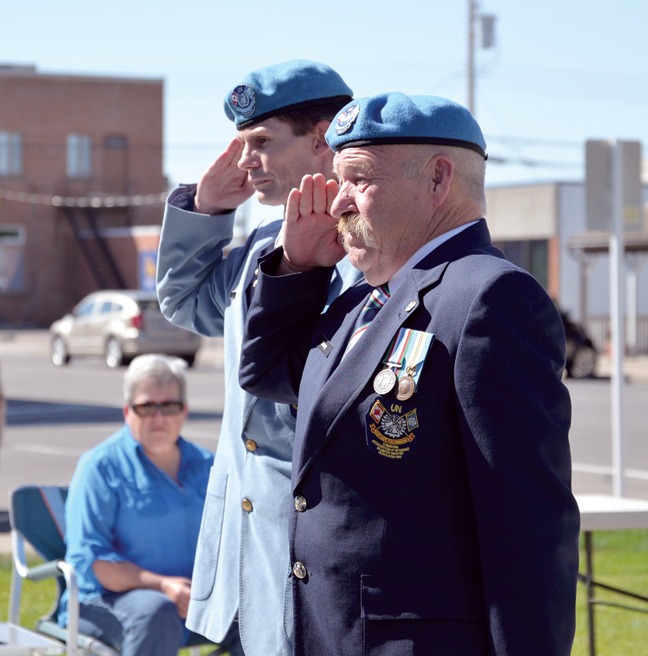 By J.W. Schnarr
Taber Times
jwschnarr@tabertimes.com
The sacrifice made by the passengers of Canadian Forces Buffalo Aircraft Flight UN 51 will not be forgotten.
A small group gathered together at Taber's Cenotaph Park Sunday in a somber ceremony of remembrance for those who have given their service and their lives in the name of United Nations Peacekeeping around the world.
The event also marked the first official event of the new Taber chapter of the Canadian Association of Veterans in United Nations Peacekeeping, an organization dedicated to honouring the memory of the sacrifices made by Canadian peacekeepers.
On Aug. 9, 1974, Canadian Forces Buffalo Aircraft Flight UN 51 left Ismailia, Egypt, for a supply mission that included stops in Beirut, Lebanon, and Damascus, Syria. The aircraft was carrying resupply equipment and parts for UN troops stationed in the Golan Heights. The aircraft was unarmed at the time, and was shot down by a Syrian anti-aircraft installation. All nine aboard were killed, representing the largest single-day loss of life for Canadian peacekeepers.
Sunday, former U.N. peacekeepers, members of Taber Police Service and the Taber/Vauxhall RCMP, Taber Royal Canadian Legion Branch No. 20, and Taber Coun. Joe Strojwas were on hand. A number of observers were also in attendance. Former peacekeepers Philip Zadnik and Len Barry laid a wreath at the foot of the Cenotaph, the Canadian flag was lowered to half-mast, and Strojwas and TPS Chief Alf Rudd spoke on the importance of peacekeeping and Canada's role on the world stage.
Rudd is a former peacekeeper and said he was proud to come and speak at the event.
"UN duties are very different," he said, highlighting the difference between the jobs of soldiers and peacekeepers. He described peacekeeping missions during wartime as being similar to international sporting events and the paralympic events that often follow.
"We just had the Pan Am Games," he said. "We have the athletes competing in their events. And their only rule of engagement in their sport is to win. They will do, at all costs, whatever it takes to win that competition and participate at full force.
"Then, after the Pan Am Games, we have the Paralympic Games. And we know those athletes love participating, but they participate at a disadvantage.
"That's much like the U.N. Once a warring action is over, and the contesting sides have had enough, or so it seems they've had enough, then they stand down, and the U.N. comes in as those special forces to maintain the peace. And we're participating and competing at a disadvantage, much like these athletes are. It's like you have one arm tied behind your back."
Rudd was part of peacekeeping efforts in the town of Srebrenica, located in Bosnia and Herzegovina, in 1994. The town was the site of a genocidal massacre in 1995, when 1,000 Muslim Bosniaks were killed as part of larger operations in the area by the Bosnian Serb Army of Republika Srpska. The death toll would eventually climb to 8,000, mostly men and boys, while women and girls were bussed off to a detention centre to be raped and tortured. The attack marked a dark point in the war and became known as the Srebrenica Massacre.
Rudd was there at the time to help reconstruct and train the local police force, and also helped with getting a local school up and running again by asking his family to collect school supplies to be shipped over for children living in the area.
He told those in attendance that peacekeeping missions have their own unique challenges.
"It's very complex, very political, and on top of that, it's all done in the background of a very dangerous scenario, with armed combatants still present," he said. "It's really a very risky business that peacekeepers undertake when they step forward to do their duty."
During his speech, Rudd emphasized the vital role Canada has historically played in peacekeeping operations.
"The particular role that Canadians play is, in my view, far superior than many nations who participate," he said. "I don't mean to speak down about other nations, but I can tell you that the amount of respect Canada has in the world from U.N. efforts is related to the work that we do as U.N. members, and our ability to not only maintain the peace, but also bring relief to those communities."
Those abilities have been recognized the world over, according to Rudd.
"Canadians have, in the world, a reputation of being the number one peacekeeping nation," he said. "It did me proud to go and serve Canada; it did me proud to be seen by those other nations as someone with honour and integrity, and I was very pleased to be able to do that service."
Strojwas sent along the well wishes for the organization from council and on behalf of the citizens of Taber.
"It is with great pleasure that we extend our congratulations and welcome to the first United Nations Peacekeeping Association celebration here in Taber," he said. "This is a great opportunity to honour you and your organization, and all the Canadians who served with the UN peacekeeping forces. An event such of this perpetuates the memories and deeds of your fallen comrades who lost their lives in the defense of freedom."