Trail ride helping Children's Wish Foundation
Posted on July 16, 2015 by Taber Times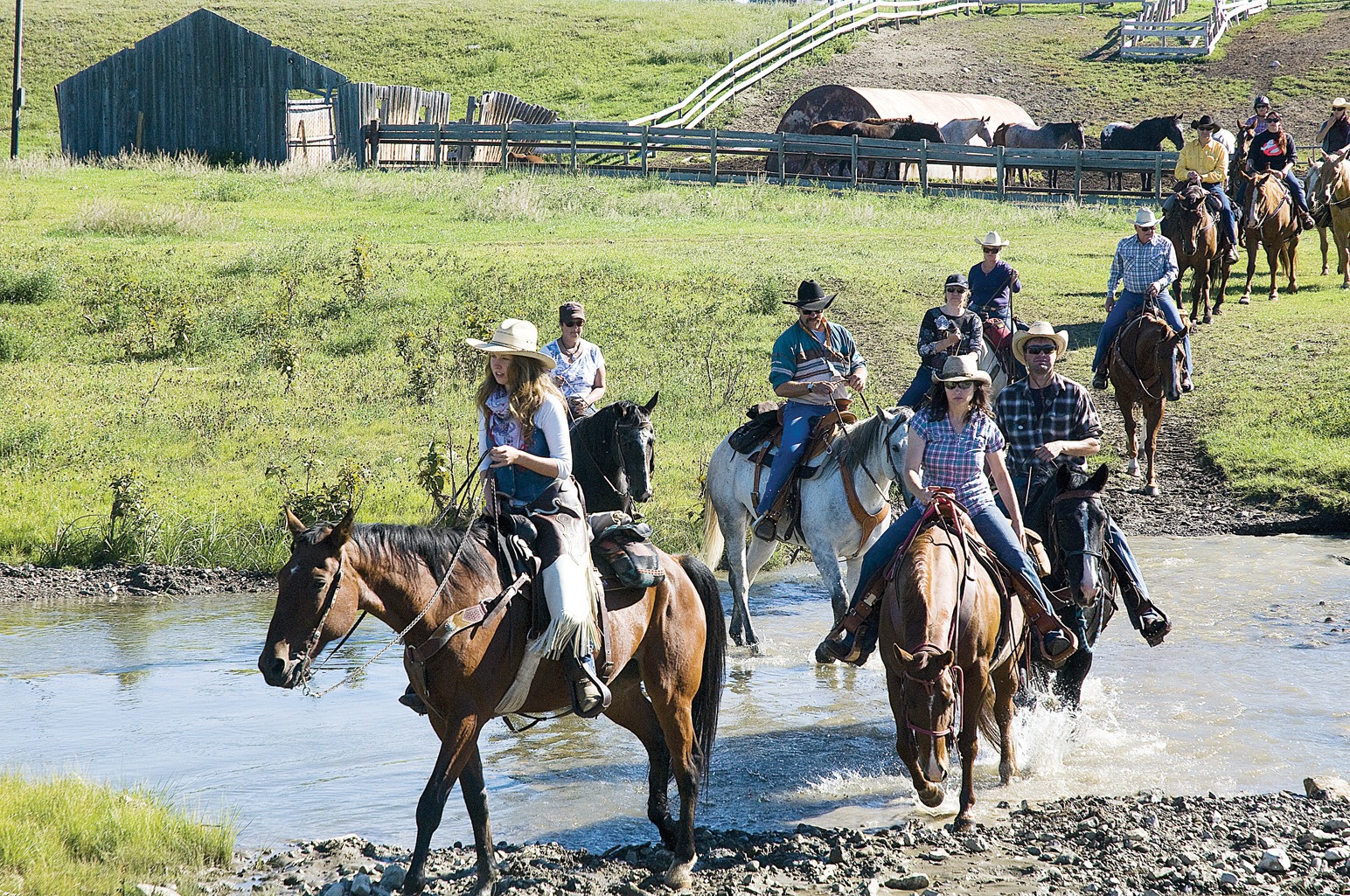 TIMES FILE PHOTO
By Greg Price
Taber Times
gprice@tabertimes.com
For those wanting to saddle up and help a good cause at the same time, the Alberta Wish Ride, in support of the Children's Wish Foundation, has something for everyone with a trail ride that will start in Barnwell.
The Alberta Wish Ride has been operating since 2009, operating a one-day fundraising event for the Children's Wish Foundation in several locations. The day consists of an escorted horseback ride through some great Alberta countryside, food, entertainment and prizes.
The event is a passion which originated in the area with Irene White  and her husband Roger Matas, who originally resided in Winnipeg, Manitoba.
"They have been doing the ride just outside of Winnipeg in Woodlands, and they are on their 27th year I think. When we lived there, I would go out and help them with the ride. My parents lived in Kelowna and they'd be home every summer and my dad was always there to help out with the horses," said White. "He thought we should be doing this in Kelowna."
Twenty years ago, the trail ride wish vision did indeed start in Kelowna.
"We would help put the ride on out there and it branched out to 23 towns that needed to be co-ordinated. It became the biggest fundraiser for Children's Wish Foundation in British Columbia," said White. "We moved here nine years ago (Alberta) and we got thinking we should bring it here because it's horse country."
The year Irene White and her husband started the Alberta Wish Ride, Irene's father passed away, making the new endeavour in Alberta bitter-sweet.
"He didn't get to see our first ride. So it's kind of like a legacy for me and Children's Wish has been a passion of mine and was a passion of my father's," said White.
The first four years of the Alberta Wish Ride was done in Kananaskis, while this year's ride will be done in two locations in Cypress Hills on Sept. 12, with an earlier one in the Taber area on Aug. 22.
Leslie Olson and her committee will be hosting a trail ride that will leave from Barnwell and link up with trails around the Taber area. The day will start with registration and breakfast at 9 a.m.  All activities will take place at the Taber Pro Rodeo grounds (NE 1/4 1-10-17 W4) , but the ride itself will leave from Barnwell to link up with the trails where riders must supply their own horse. There are two trails available with a short and long ride.  The long ride is a much harder trail, and is for experienced riders and horses only. After the ride, one will return for a BBQ supper, live entertainment, and auction and prizes. Camping on site is available as there will be a welcome social on Friday, Aug. 21 from 7-10 p.m. at the Taber Pro Rodeo grounds which will feature beer gardens and a band.
Riders must have a minimum of $60 in pledges to participate. Every $25 brought in gives a ticket to win a saddle, donated by Across the Line Electric. Olson won the saddle prize at a trail ride at Sierra West in 2014 which got her interested in organizing the event in Taber.
"People can register for either ride or both," said White of the Cypress Hills and Taber excursions. "For the Taber ride, you have to supply your own horse. What we entrain in the people that are organizing rides for us, is we do everything at as little expense as possible, because the more we can give to the kids, the better because our goal is to help the kids."
Established in 1984, The Children's Wish Foundation of Canada is a national non-profit organization dedicated to fulfilling a favourite wish for children diagnosed with high-risk, life-threatening illnesses.
Since its inception, Children's Wish has granted more than 18,000 wishes for children and their families and fulfills approximately 1,000 wishes annually across Canada — each being an individual adventure, carefully structured to meet the needs of that particular child.
"A lot of kids want to go on trips, like to Disneyland. Some want instruments. There was a young girl in High River and her wish was to go meet Criss Angel in Las Vegas and they flew her down there," said White.
"She was very ill, being born with scoliosis, and she had a number of things wrong, and then developed cancer at an early age. They did a special grad for her and she passed away six months after her grad."
Another heart-wrenching wish White remembers is an 11-year-old that was diagnosed with a terminal illness who wanted a headstone in the shape of Mickey Mouse.
"That one pulls at your heart strings. She passed away and they made this beautiful headstone of Mickey Mouse from Fantasia with the wand and the stars ," said White.
"It's a wide range of wishes that are fulfilled to make kid's dreams come true. The wishes range from zero to thousands of dollars. As long as the child qualifies, they will grant any wish they ask for. No wish has ever been turned down. Our goal is to put smiles on children's faces."
To register for the Alberta Wish Ride in the Taber area, you can log onto http://www.albertawishride.ca.
"Even if you are not riding, come out for the day and the dinner and some entertainment and bring some donations," said White.
"If you are riding your own horses, you have to have the Alberta Equestrian Federation Card, insurance to ride. If they are there with a horse, they need it."