Local boy named War Amps National Safety Ambassador
Posted on July 16, 2015 by Taber Times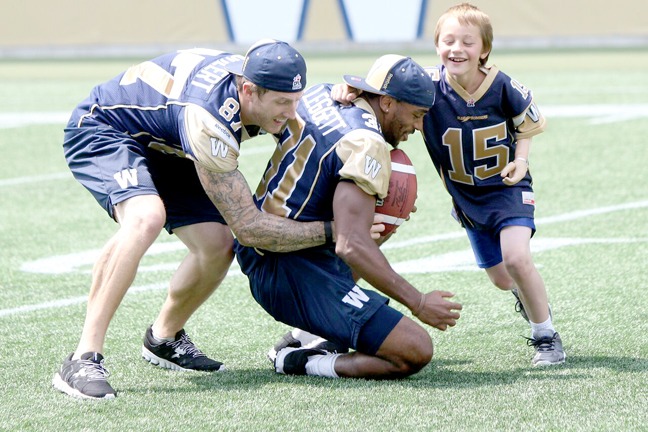 By J.W. Schnarr
Taber Times
jwschnarr@tabertimes.com
A local CHAMP is this year's War Amps National Safety Ambassador.
Seven-year-old Ernie Friesen was selected by the organization for their annual Public Service Announcement as part of the CHAMP (CHild AMPutee) Program, a joint project with the Canadian Football League designed to remind Canadians they need to be aware of dangerous situations at all times.
The Friesen family, including Ernie's parents and his four brothers, traveled to Winnipeg last Wednesday where they shot a television commercial. In addition, the family was invited as guests to the Winnipeg Bluebombers home game against the Montreal Alouettes. Ernie's mother, Maria, said there were plans to introduced Ernie to the crowd and to talk about the PSA, something Ernie was particularly excited about.
Maria also said her family has enjoyed watching CFL games on television, but have never had a chance to see a live game before.
"The boys are very excited to see the game live," she said.
Maria said Ernie has been excited about the entire process, and when he found out he was going to be this year's ambassador, he began watching commercials from previous years on the Internet.
"He is thinking he's gong to be famous," Maria said. "That's what he actually wanted, and likes."
Two years ago on June 1, Ernie was with his father, who was loading with an auger. Maria said Ernie was playing with a dog at the time, and running around, while her husband was working.
"My husband didn't see it, but Ernie says he just fell when he was chasing the dog. He said later his head was very close to going in, and that's when he fought so hard to get his head out of the grain. (The machine) grabbed his arm.
"He lost the arm and his complete shoulder. Everything."
Maria said at first, the family felt they would struggle with the handicap. But because of the help from family, friends, and the War Amps organization, those fears are no longer there.
"We have a whole new outlook," she said. She added her son is still coming to terms with the loss of his arm, and overall he has a lot of support and is fiercely independent.
"He is very outgoing. He does not like to have help, he wants to do everything by himself. He has been adjusting very well."
The Friesens have recently moved to Taber from near Wrentham, and Ernie is going to be headed into Grade 3 this year.
The CHAMP Program was developed in 1975 as a way to encourage child amputees to accept their amputations and develop a positive approach to challenges. To be enrolled in the program, children need to be under 18, live in Canada, and either born missing a limb(s) or have lost a limb(s) due to an accident or due to medical causes.
The CFL and War Amps have taken part in an annual public service announcement for the past 30 years, as a salute to the league's support for War Amps and as a way to spread the message for children to "Play Safe." The commercial will begin rotation during CFL games beginning Thanksgiving weekend, and will continue until the end of the season, including the Grey Cup Final. It will also be shown on other networks and specialty channels.
Maria said the accident that took her son's arm is something that people should think about when they and their children are near dangerous equipment.
"We never thought that something like this would happen to us," she said. "We always heard stories about people losing an arm or a foot, but if you hear it and don't know the people, and after a few days or weeks you might forget.
"As soon as it happened to us, we actually knew what those people went through. I would encourage people to have their children play safe, or watch their surroundings. Just make sure it doesn't happen to them."
"As far as War Amps, they have supported us in so many ways," she added. "No matter what questions you have or the help you need, they are always there. It's a pleasure for us to have them in our lives."