Summer reading program featured at local library
Posted on July 8, 2015 by Taber Times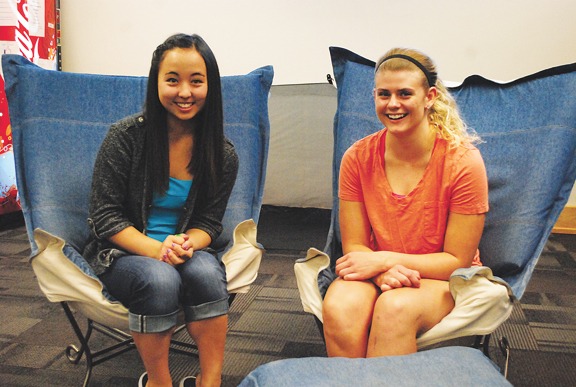 By Trevor Busch
Taber Times
tbusch@tabertimes.com
As the sultry heat of summer begins to draw children towards an endless array of dog day distractions, the Taber Public Library's Summer Reading Program is aiming to keep reading skills sharp in a fun-filled environment.
Starting yesterday, program co-ordinators Skylar Miyanaga and Caroline Steinborn will be delivering programming to registered children. The program theme for 2015 is "Play".
The number of students that attend the program can fluctuate widely, according to Miyanaga, who was one of the library's program co-ordinators in 2014 and is returning this summer.
"It varies day to day. They have to pre-register, but they don't have to tell us if they're coming. We usually get about 100 kids that register, but about 20 to 80 come each day."
The program runs from 2 to 4 p.m. at the library, Tuesday to Saturday, with an age range of 6 to 12 years old.
"We have different themes, so for each theme we have books for that theme," said Steinborn, who will be attending the University of Calgary in 2016. "We have nature week, little critters week, prehistoric week, beach week, science week, and around the world. So we'll be doing books that are in that theme."
Miyanaga, who is headed into Grade 12 in the fall and also teaches dancing five days a week, enjoys her work with children during the summer months.
"It's really fun, and you get to experience lots of creative minds, the kids are really enthused about learning throughout the summer."
Steinborn expressed similar sentiments about the program.
"I'm really excited about it. Working with kids is always fun, and doing crafts and games with them will be really fun."
Programming lined up for the weeks of the program should keep children entertained with a variety of offerings.
"We have lots of special guests lined up, and we're going to have water days, because it's expected to be super hot this summer, and we'll also have a movie every Saturday," said Miyanaga.
Today's libraries are much more than just a storage vault for dusty tomes, but the reading program will be helping keep kids' noses planted firmly inside a book this summer — at least some of the time.
"I think it's more just making sure kids keep up with their reading, so it doesn't fall back each year," said Steinborn.
"Just to get kids to have fun and enjoy reading, and not sit at home playing video games. Keep them active in the summer."
Miyanaga echoed her co-worker's remarks on the subject. She is currently reading Me and Earl and the Dying Girl by Jesse Andrews.
"You need to encourage them to read, because with all of the technology today, it's becoming — I think — more rare for kids to open up a book."
Parents interested in registering a child for the program can sign up at the library's front desk. There is no cost for the program, and no deadline for registration.