Large crowd at recycling open house
Posted on July 2, 2015 by Taber Times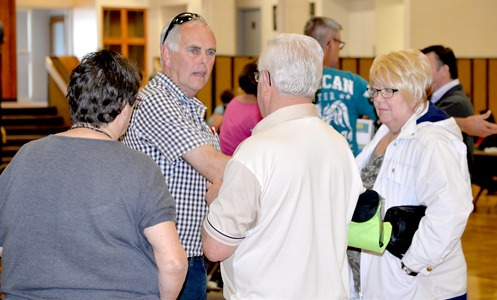 Times photo by J.W. Schnarr
By J.W. Schnarr
Taber Times
jwschnarr@tabertimes.com
A sizeable crowd made their way to the Taber Community Centre auditorium Thursday to hear about the new, comprehensive recycling program the town plans to begin rolling out in the fall.
More than 70 people attended the event, considered a success by organizers, to hear from town Chief Administrative Officer Greg Birch, Mayor Henk De Vlieger, and Coun. Rick Popadynetz. There was also an opportunity to ask questions of the mayor and councillor, along with select town staff involved with waste disposal in the community.
Taber will be moving to a three-bin automated waste system as early as the fall, beginning with those residents who currently have their garbage picked up by hand. The town will then integrate remaining residential properties and finally commercial properties in 2016.
"We're one of the only places in Alberta that is doing this, and we're hoping to win awards," said Popadynetz. "It's an innovative solution to cut back our waste."
Birch said more public information events are going to be held in the days leading up to implementation of the system, in order for local residents to get a chance to hear more about it and to ask questions.
He told the crowd recycling in town as it sits currently is "painful" to do.
"It takes an effort, right?" he asked. "I dedicate myself to it, but really, it's painful. So in the basement of my house, I have (recyclables), and I overload those things because I don't want to load up the car and drive them (to the recycling facility)."
"We're going to produce something that is a lot easier for you, and we think that as a result of that, our recycling volume is going to go way up."
The intent of the program is primarily to reduce the amount of money spent on tipping fees for waste collection, and for Taber to achieve their ultimate goal of being a "leader in waste management for our area," according to a mail-out information package from the town.
The program will be implemented in four phases, including:
Removal of the large bin system to be replaced with an automated cart for general waste; and securing designated facilities for processing recyclables and compost material, at which time residents will be issued two more carts for those materials.
According to Birch, the town will own the bins and they will stay with the homes. They will take care of lost or damaged bins, should that occur.
"We're going to give you those carts for free," he said. "We will maintain them. They are pretty indestructible. They don't break easily. But if they do break, the idea is that the town will replace them for you. They will become and stay town property."
He also said in the event of a large yard, the town is willing to provide additional bins for those who need them. Pickup will be on a rotational basis, with a schedule to be worked out by the town. Carts will also have identification chips in them and be identified in other ways, according to Birch.
Popadynetz said the program has been a long time coming, and delays have been in part due to time spent as part of the Southern Alberta Energy from Waste Association (SAEWA). SAEWA is working toward a facility that could be used to burn waste and make electricity, but has been criticized by local municipalities for the lack of movement on the project after years of membership.
"We were stalled by SAEWA," said Popadynetz. "We were hoping for something more feasible to come out of that."
"Obviously, as a council, we held off (on recycling)," he added. "What were we going to do? It would have been great with a lot of garbage, sending it to this (SAEWA) facility to make power. How green can you get?"
Popadynetz stopped short of saying the town was playing catch-up after ending its involvement with SAEWA, however.
"This is more about education," he said. "This is going to educate a lot of the Low German people in our community, and people from outside, the temporary foreign workers, it shows them different ways to use waste."
"You've got three bins, it's easy to use, you move forward with it," he added. "It's easy."
Popadynetz said the new system was decided on after careful consideration. Council gathered information on more than 80 municipalities with recycling programs to see how the program could be implemented in Taber.
"We looked at other systems," Popadynetz said. "A larger system, with communal bins, but we would find that people are misusing them. So this is a way, maybe to police it a little bit, but mostly to educate (residents). This is such an amazing educational tool. The bins are just outside your house, and you know what each bin is for."
In spite of the efforts to let people know about the new recycling system, and the coverage the topic has received, he expected some people would still be surprised when they wake up one morning to find their large metal trash bins gone.
"It's going to be a lot of voices," he said. "But we have to educate the public, and we're going save money doing it."
"That's the biggest thing," he added. 'It's going to be dollars, and it's better for the environment."