Military theme for Canada Day celebrations
Posted on June 17, 2015 by Taber Times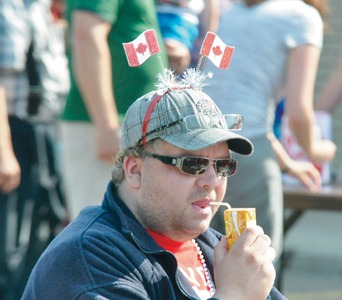 TIMES FILE PHOTO
By Greg Price
Taber Times
gprice@tabertimes.com
The regular Canada Day celebrations in Taber have got even better for 2015 thanks to the combined efforts of the Town of Taber/ATB Financial and Taber Cares.
This year marks the 70th anniversary of the end of World War II. The liberation of the Netherlands with the aid of Canadian forces happened on May 5, 1945. In the past, the Dutch Canadian community and others have sponsored sending veterans overseas as well as other activities and celebrations.
That sponsorship will be closer to home for 2015, including having Guest of Honour and former Taberite, Rear-Admiral Ron Lloyd, the Deputy Commander of the Canadian Navy as part of 'Operation Liberation and Freedom' as part of Canada Day Celebrations.
Under the umbrella of Taber Cares which involves service clubs, churches and community-minded citizens, there will be a major celebration on Canada Day to honour veterans and first responders to celebrate the freedoms Canadians enjoy.
"What happened was one of the community members contacted me and asked if we would be interested in this. Being it's special with the 70th anniversary of the liberation in the Netherlands," said Wanda Renner, chairperson for Taber Cares, a community-minded organization made up of several stakeholder groups that back in 2013 helped raise over $70,000 to help flood victims from across the province. "We are very proud of living in Canada and being Canadian in a free country. We are working with the town to enhance Canada Day this year."
While not confirmed as of press time, organizers are trying to get a CF-18 to do a fly by over Taber to celebrate Canada Day. Starting with a breakfast at Confederation Park, there will be a flag-raising ceremony and salute, military parade and artillery salute at 11 a.m. on Canada Day, followed by a free lunch. During the afternoon there will be family and children activities, an entertainment program and static military displays, including an artillery gun. A formal, invite-only dinner and program to honour veterans and first responders will be held at the Taber Legion, commencing at 5 p.m.
"The theme of military was a natural given it was the 70th anniversary (of the end of World War II)," said Renner. "We got our contacts, and put all our heads together to bring a little more to the table as far as that day goes.
"We're helping with the town so they can be enhanced with some extra activities for families."