Bell ringing highlights United Church's 90th anniversary
Posted on June 17, 2015 by Taber Times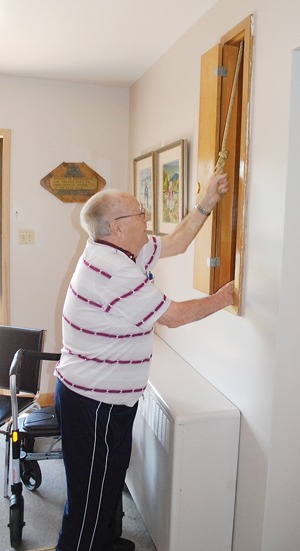 Times photo by Trevor Busch
By Trevor Busch
Taber Times
tbusch@tabertimes.com
Celebrating the 90th anniversary of the United Church of Canada last week, members of the Knox United Church congregation met to mark the occasion with a ceremonial bell ringing.
On June 10, Taberites heard the peal of the church's bell 90 times. The time of the bell ringing, 10:30 a.m., was chosen because the inaugural service celebrating the formation of the United Church of Canada on June 10, 1925 began at that time of the morning. By coincidence, June 10, 1925 was also a Wednesday.
With more than 3,000 across Canada, dozens of congregations in communities as far afield as Bonavista, Newfoundland and Chilliwack, British Columbia, took part in the nation-spanning bell ringing. In downtown Toronto, Metropolitan United Church's carillon recital included arrangements of hymns sung during the 1925 service.
In Taber, the ceremonial bell ringing was inaugurated by Bruce Milliken, who had been responsible for the duty many times over the years at Knox United Church.
Finished construction in 1912, the present Knox United Church was originally the Knox Presbyterian Church prior to the union which created the United Church of Canada in 1925. The Knox United Church bell was donated by J.H. Robinson and Nelson Blue, and bears an inscribed plate in the bell tower.
The United Church of Canada is the largest Protestant Christian denomination in Canada, and the second largest Canadian Christian denomination after the Roman Catholic Church. The United Church was founded in 1925 as a merger of four Protestant denominations, the Methodist Church of Canada, the Congregational Union of Ontario and Quebec, two-thirds of the congregations of the Presbyterian Church in Canada, and the Association of Local Union Churches, a predominantly prairie-based movement.