Anti-Flag waving punk message for 20 years
Posted on June 17, 2015 by Taber Times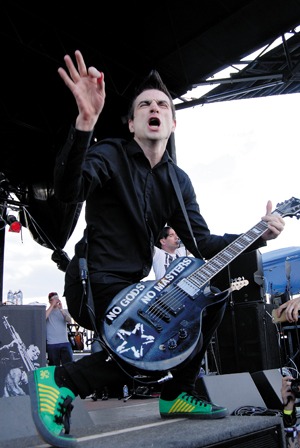 Southern Alberta Newspapers photo by Garrett Simmons
By Greg Price
Taber Times
gprice@tabertimes.com
"It's about giving a f&*k about something other than yourself."
Anti-Flag bassist Chris Barker (aka Chris #2) screamed those words before the band opened its set at the 17th Annual Punk Rock Bowling and Music Festival in Las Vegas late last month — a sentiment the band has resonated since its inception.
Anti-Flag, the punk rock band from Pittsburgh, Pennsylvania helped put the exclamation point of 20-years-plus in the alternative movement at its recent performance. Practising what they preach in their songs about human rights, class struggle, anti-imperialism, and anti-war, along with several socio-political issues of the day, band members also advocate for Greenpeace and Amnesty International and declared solidarity with the global Occupy Together movement. It is this activism that Anti-Flag drummer Pat Thetic attributes to the band's longevity with multiple tours and the recent release of the band's 10th album, 'American Spring,' along with some quite honest and tongue-in-cheek self awareness.
"We are really passionate about playing music and activism. Even if we weren't playing music, it would be something we'd be doing," said Thetic. "The second thing is, we're not very good at anything else in our lives. So this is the default that we go back to."
This was the first time Anti-Flag has performed at the three-day festival which attracts dozens upon dozens of both historic and up-and-coming punk bands from around the world.
"This is the first time we've done Punk Rock Bowling. It just hasn't worked out with our schedules in the past. We heard it was a non-stop party all weekend, it's a bunch of people making bad choices and being a mess," said Thetic with a laugh. "We love the idea of playing with Rancid, love the (Mighty Mighty) Bosstones, TSOL is a classic band, Sick of it All, we do a lot of festival touring in Europe and we cross paths with them and we hate playing around them because they are so good."
Being a band for 22 years has its sacrifices. If a record comes out in a given year, Anti-Flag will be on tour for six months of the year, much like they are this year in promoting American Spring which was released late May.
"I go away for a month and it feels like a day, and everyone else around me they have aged a month and I've just aged a day. You leave for a tour and everything sort of blends together into one experience."
Those sacrifices can affect loved ones as well. While Ant-Flag will often sing of their punk protests on the general ills of society, Thetic anointed American Spring as the band's most polished and personal to date.
Bassist Chris Barker has admitted in other interviews, prior to the album's release, that he was in a dark place helping write the album. Barker recently had a 17-year relationship/marriage end in divorce, admitting the grind of being in a band was the likely culprit. He also had a sister murdered in which an over-taxed legal system saw justice averted for the poor in his eyes. It gave more personal experience to the connection in issues like the killings of Mike Brown, Trayvon Martin, Eric Garner and Walter Scott in the news.
"It is an angrier and darker record than some of our other records. There is personal stuff on the record we usually stay away from, but the personal stuff got to be so much a part of our lives in the last year-and-a-half that it made its way onto the record," said Thetic. "How you deal with loss is how you deal with any situation. Having a rock band and a relationship is not an easy thing. Trying to be in a relationship and being gone six months out of the year is tough, but we are there for each other."
Politically speaking, back in Alberta, Thetic noted perhaps voters were displaying that same anger at the polling stations upon hearing an NDP majority government was elected after 44 years of Progressive Conservative rule. But whatever the motivations was, Thetic had words of wisdom for our politicians back in Alberta, no matter what political party they belong to.
"Not just to the NDP, but to everybody. Nothing changes unless you're in the streets. Change never comes from the top down. It only goes from the bottom up," said Thetic. "If people are not trying to do positive change by working actively in the streets, that change won't happen. It takes courage to do that."
Courage that Anti-Flag was at first optimistic that the Obama administration would have, but have since been disenchanted as his presidential run nears its tail end.
"Obama doesn't have the guts to make things really happen. He doesn't have the guts to really close down Guantanamo Bay. But if you put 500,000 people on the streets in Washington, D.C., he is going to figure out a way to make it happen," said Thetic. "You have to be in the streets saying you want it."
With the punk rock music scene helping give people a united voice, Thetic admits his band Anti-Flag doesn't pretend to have all the answers to counter the feelings of hopelessness in an unjust world. But performing in front of large crowds can help energize a movement.
"What helps me have hope is going into a room of 100 or 200 people or thousands of people and knowing that they are all looking for something better than today," said Thetic. "The racism, the sexism, the homophobia — the isms of the world are hopefully not rearing their ugly head. I have hope that we can eradicate those stupidities, we just have to decide we are going to do it."
Being around for 20-plus years, Thetic noted the band Ant-Flag has several memorable experiences of how their music touched lives of their fans. But one stood out for him personally, where punk music helped shaped a person's career path.
"We've been around long enough now to have played a show in 1994. We had a kid hear the band, got interested in the music, but also to explore the politics of the band and explore leftist ideology," said Thetic. "He then went to university, then go to law school and come out the other side and become a lawyer for civil rights, fighting for human rights. He came up to me at a show and said 'I saw your show in 1994 and it changed the way I see the world, and now I'm a civil rights lawyer. And I thought that's fu#*ing awesome. He was exposed to our broad community in the punk rock world and those ideals had an impact on that person, making his life about helping others."
Thetic admits with all the death and tragedy you see on the TV and saturating social media, we very much still to live in a screwed-up world. But even the most pessimistic punk rocker can see some positives slowly inching forward, although maybe not at the speed the punk-rock movement would hope for.
"I will say, I never thought we would have a black president if you asked me back in 1993-1994 when we started this band. I never thought we'd have gay marriage in the U.S. I'm not saying by any stretch of the imagination that Anti-Flag had anything to do with any of those things," said Thetic.
"But the fact a lot of people have heard a lot of music talking about racism being bullshit, homophobia being bullshit and those types of things, have had an impact on the collective consciousness and greater society."