Times holding photography contest
Posted on June 10, 2015 by Taber Times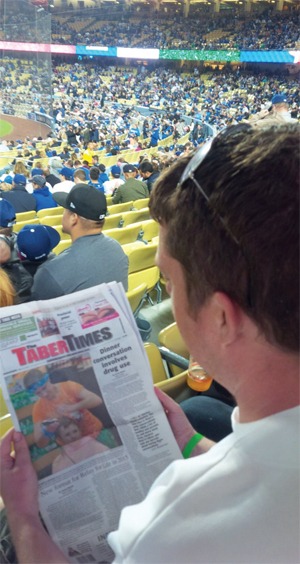 TIMES FILE PHOTO
As Taberites start to make their vacation plans with family, The Taber Times wants to travel with them as well.
Running until early September, The Times will be taking picture submissions of anyone who snaps a pic of someone holding The Taber Times while they are on vacation.
"It is a concept that has gone viral with many people, be it bringing a garden gnome, a rubber chicken or some other fun item that serves as a traveler alongside people on their vacations to various locations in North America or more exotic locales internationally," said Greg Price, editor for the Taber Times. "We thought why not take the concept to the local newspaper and give people a chance to win prizes for their love of photography at the same time. We are a community newspaper and we want to encourage our community to submit fantastic photos, not just with this contest but for the regular paper be it for our Taber Takes section or within the newspaper and this contest will help encourage that. There's plenty of interesting things going on around in our community that people want to see in pictures."
However far people go in their travels, they can take a little piece of home with them and maybe make some friends.
"I shot some pics of me in Las Vegas and Dodgers Stadium with the newspaper for this promotion and it started one conversation with people wondering where Taber was. It can certainly start a conversation with fellow travelers with some international relations," said Price with a chuckle.
The Taber Times will give out first-place, second-place and third-place prizes for the contest. Top prize is a Panasonic TS25 camera, a Lowe Pro Dashpoint Camera Bag and a 4 GB SD card. Second and third-place prizes are photo finishing gift cards.
Photos of you on vacation holding the Taber Times can be submitted by e-mail to gprice@tabertimes.com or by bringing the picture to the Taber Times office at 4822 53rd Street.
Winners of first to third place will be selected on Sept. 9.