Guide dogs supported through annual fundraising walk
Posted on June 10, 2015 by Taber Times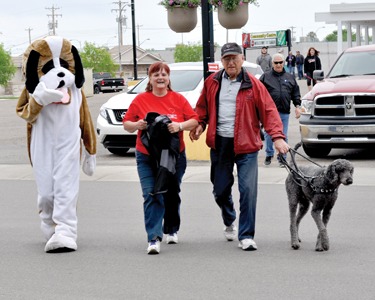 Times photo by J.W. Schnarr
By J.W. Schnarr
Taber Times
jwschnarr@tabertimes.com
It was a dog walk with purpose at the 14th Annual Purina Walk for Dog Guides.
More than 20 walkers and their four-legged friends gathered together on May 26 at Confederation Park to take part in the event, hosted by the Taber Lion's Club.
Dean Arnold, with the Taber Lions Club, said last year the event raised nearly $8,000, and that over the history of the event, more than $70,000 has been raised.
That money will go to help fund the Lions Foundation of Canada Guide Dogs School.
These walks are the primary source of fundraising for LFC, and all money raised goes toward training dog guides with no administration costs. All events are run by volunteers.
Arnold said the event has strong support from local businesses and has seen a resurgence of volunteers in recent years.
Arnold said the event is important because of the awareness it brings and the service it helps provide. The money raised helps to allow the recipients to get some time with their dog before the animal comes home with them.
"It brings awareness to the importance of guide dogs," he said.
"(The dogs) are at no cost to the recipients. They can go and get acquainted and live there for a week."
Service dogs are not used only for the blind. LFC offers five individual guide dog programs for people who have vision issues, are hearing impaired, confined to wheelchairs or have special needs, people prone to seizures, and people with autism.
Medicine Hat resident Roy Gale raised $1,420 in this, his second year of involvement with the walk. He said it was his duty as a member of the Lions Club to help those in need.
"I have six kids and I put the bite on all of them," he joked. "I also have a lot of friends (who donated). Anything that will help others, well, I'm all for it."
Bill Brown has worked with the Canadian National Institute for the Blind for the past 37 years, and lost most of his sight to a hereditary disease by the time he was finished high school. He said he and his wife, Lynda, travel around southern Alberta to these events to show support and to help out where they can. He said service dogs provide a vital link to the outside world for some people who might otherwise find themselves disconnected from the outside world.
"Without service dogs, lots of people wouldn't get around," he said. "In kids with autism, for example, it makes a big difference."
In the case of seizure dogs, he said the dogs are trained to tell when a seizure is coming and warn their owners, and then to stand over their owner should a seizure occur, in order to keep them safe.
He said autistic children could be hooked up to the dogs with a harness, so that they are unable to get themselves into unsafe situations, such as running out into traffic. The dogs also tend to make the children very popular when they go to school, increasing the amount of positive social contact they have with other children.
In Brown's case he has enjoyed a number of service dogs over the years.
"I don't feel blind at all," he said. "You quickly find ways to get around it."
For more information on the event, please visit http://www.purinawalkfordogguides.com.