MLA candidates present their platforms at forum
Posted on April 29, 2015 by Taber Times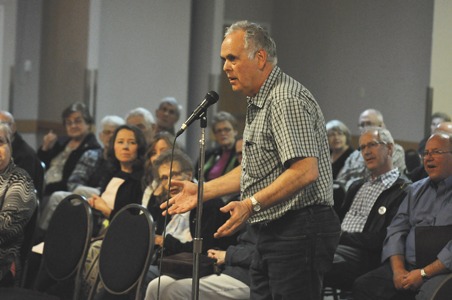 Times photo by Trevor Busch
By Trevor Busch
Taber Times
tbusch@tabertimes.com
Despite a perfect storm arising — a televised leader's debate and Calgary Flames playoff hockey — to limit the turnout at Taber's election forum on Thursday evening, a sizable crowd was still on hand to hear the pitch from each party's candidates.
As the provincial election heads into the home stretch this week in the lead up to a May 5 vote, as has become customary in Alberta elections a large percentage of the electorate remains undecided, and parties have been energetically targeting this swing vote.
Hosted at the Heritage Inn from 7 to 9 p.m. on Thursday, candidates fielded questions from the floor on everything from health care, policing, and royalty rates to property rights, senior's issues, and the deficit.
Candidates vying for the right to represent Cardston-Taber-Warner in Edmonton include Brian Brewin for the PCs, Aaron Haugen for the NDP, Grant Hunter for the Wildrose, and Del Bodnarek for the Alberta Party. The Liberal Party of Alberta is not fielding a candidate in the riding in the 2015 election.
The initial question from the floor came from Marten De Vlieger and was directed at the Wildrose on the issue of protections for the province's health care.
"Under our policy, we want to make sure the people of Alberta have as many choices as they can, and to give them as much control as they can, in their decision making," said Wildrose candidate Grant Hunter. "Obviously we have a public health care system here, that's not going to change. What we're trying to do is to make it more efficient. Health care makes up 50 per cent of our budget. It is unfortunately a huge department, that needs to be addressed. We know that, and if it continues to increase in cost, then we will become broke — we cannot continue to have that increase in cost. What we're saying is to look for efficiencies. The best way to look for efficiencies is to create alternative measures in order to be able to create those efficiencies."
The Alberta Party's Del Bodnarek was unequivocal in his support for publicly-funded health care rather than what was hinted at by Hunter.
"The Alberta Party has a policy that Alberta's health care be 100 per cent publicly funded," said Bodnarek. "No if, ands or buts about it. This is something we feel very strongly about, and won't back away from. It's the same idea that privatizing something is going to make it more efficient and cheaper. Who here has cheaper power bills since privatization? It's a red herring."
The NDP's Aaron Haugen pushed for more ancillary answers to health care issues rather than pouring more dollars into front-line hospital care.
"Pulling apart health care is not the answer or issue. What is, is preventative care. Primary care physicians for families, urgent care centres to relieve pressures on hospitals, if you can get to the issue before you have to go to the emergency room, that's where you save money, and you reduce wait times, and you reduce wait times for surgeries — you get to the problem early, you solve the symptoms early, you alleviate the problem."
PC candidate Brian Brewin had few words on the issue, but pointed out it was the number one concern for constituents in the riding.
"Health care is something Albertans hold pretty near to their hearts. Driving around the constituency, it's the number one issue that people talk about. They want affordable, well maintained health care."
Another question, this time from local barrister Mark Baldry, probed candidates as to their bona fides with regard to the agriculture industry.
"It's not really what I'm going to do to help the ag industry, it's what the ag industry is going to do to help our small communities," said PC candidate Brewin. "Potentially what we have in southern Alberta, with our ag industry in our small communities, it's huge. When I've seen what Lamb Weston has been able to do here in Taber, with spin-offs for small towns, why can't we be doing that in other areas? We have hemp production here, and the canola market right now in southern Alberta is beating potatos for gross national product. Beans, the potential for the marketing of them is huge. Agriculture, I believe, is going to have to be part of small communities in order for them to remain viable. Farms are getting bigger and bigger, and as they get larger and larger our small communities are having a hard time surviving. In order for our communites to survive, we need to get ag processing up."
Wildrose candidate Hunter chose to look at the larger picture, suggesting axing petty taxes and fees will benefit all peoples and industries in Alberta.
"People don't want a hand out, they want a hand up. That's the rule of government, where it can actually help. When the government doesn't help, is when they add 59 new taxes. That's when they're sticking their long arm down your short pocket. The government needs to get out of that. If the government can lower taxes, it helps every area in Alberta. It will help agriculture."
Bodnarek with the Alberta Party suggested an untapped area of agricultural potential in the area might be the attraction and establishment of breweries or distilleries.
"I agree a lot with Brian (Brewin) about food processing. When I'm talking around the coffee table with people, the big joke is we've got sugar, we've got potatoes, we've got grain — we should be calling every brewery and distillery in North America, and bring your empty bottles, we've got everything you need up here. The potential here for ag food processing is huge. If elected, I will work with industry, economic development, and the ag ministry to bring as much of that industry to our communities so we can be creating jobs and keeping our young people here, and growing our communities."
Haugen of the NDP pointed out that unless safeguards are in place to further protect our watersheds and soil quality, agriculture could decline in future.
"Agriculture and agricultural processing are the economic engine of southwestern Alberta. We don't have the oil that they do in other parts — you're either in agriculture, value-added agriculture, or you're in government — that's how it is. All of this talk about promoting our agriculture won't amount to a hill of beans if we can't protect our watersheds and our soil from rampant energy expansion. If there's no clean water to grow wheat, if there's no clean soil, we can't grow anything. We have to make sure that the water that comes into the irrigation systems is pristine, and stays pristine. And we have to make sure that the soil and the groundwater doesn't become toxic due to unregulated fracking, where we don't know what the chemicals are. There is safe fracking, we just have to make sure that we're doing it right, and we know what we're putting into the soil and groundwater."
Taber Mayor Henk De Vlieger asked the candidates who is best suited to take on the job as the constituency's MLA.
"The point is, the people know what's best for their business," said Wildrose's Hunter. "I believe that if I listen to what the people have to say, the collective knowledge and understanding of the people is far superior than some bureaucrat up in Edmonton. The Wildrose is all about making sure that we listen to what the people are saying, they know the answers. So we're trying to empower people with the decision-making that they need to have. If we can do that, then nine out of 10 times we're going to get it right."
Brewin with the PCs detailed the M.D. of Taber's fiscal record and the skills that he would bring to Edmonton.
"When I first got on the M.D. of Taber 16 years ago, we were borrowing money for the last three months in order to get through the year. Sixteen years later, we now have a bank account of $10 million for rainy days. We've done that without increasing taxes, we have one of the lowest tax rates in Alberta. We were just ranked number nine in sustainable spending in the province. This is what I would bring to Edmonton: You don't need higher taxes, you just need to spend smarter."
Always injecting a sense of humour into the debate, the NDP's Haugen suggested government can't always be run like a business.
"I've never personally bought this allegory of government being like a business. First of all, when you're running a business and you don't provide the service, you get sued. If you're running government and you don't provide a service, you call it a cutback. Unfortunately, the cost of civilization is taxes. We have to be able to pay for what we need, otherwise we're going to wind up like Somalia, or worse, Greece."
Bodnarek with the Alberta Party pointed to his own experience in village council and the fiscal realities this instilled.
"Being on village council and balancing our budgets, working with different government groups to come to solutions where none seemed possible, that's what you're going to be hiring me to do if you vote for me. I'm going to represent you, the people of this community and the communities around, to represent you, to do a good job, to represent what you need — education, health care, seniors care, mental health care, diversifying the economy, industry — that's what I'm going to do for you."
Editor's Note: Due to the length of the election forum and the many questions fielded by candidates, only a selection of topics were included in the above article due to space constraints.