New RCMP officer on the job
Posted on April 15, 2015 by Taber Times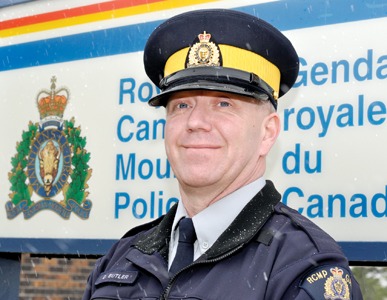 Times photo by J.W. Schnarr
By J.W. Schnarr
Taber Times
jwschnarr@tabertimes.com
The Taber/Vauxhall RCMP has a new constable on patrol to replace an outgoing one.
Cst. Dana Butler is the newest member of the detachment. A February 2015 grad of the policing program with nearly two decades working with teens in the Canadian Military, Butler is expected to replace Cst. Kevin Lambert, who has transferred out of the area.
Butler's first day on the job was Feb. 28, and, as a new constable, he will be learning the ropes from fellow officer Cst. Jason Wierenga. Now that he's had some time to settle in, Butler said he's impressed with this particular patch of southern Alberta.
"My first impression of the people of Taber and area are that they are very friendly," he said. "I always give a wave out my window as I drive, and people are always waving back. I've had an opportunity to tour the (Municipal District of Taber), and I see smiling faces and happy people out there."
"The opportunity here within the RCMP is great," he said. "My co-workers are a great bunch of people. My field coach is a very knowledgeable person, and the rest of the staff is very down-to-earth, and easy to get along with."
Butler said as a first post, he expects to be here at least three to five years, with opportunities to be posted elsewhere, or even to stick around for another posting, as the RCMP needs him. He said for the moment, he is just concentrating on learning the ropes, and doesn't have any specific aspects of the job he wants to focus on. That doesn't mean there might not be some niche he finds as his training progresses, however.
"The RCMP is vast in skill sets and job opportunities," he said. "Ask me in three years and I might know then."
Butler is originally from Simcoe, southwestern Ontario, where he grew up. He was raised in Port Dover, which he described as a fishing town which now relies on tourism.
He has 18 years military experience working with reserve units in the Royal Canadian Army Cadets youth program, and served as an auxiliary officer with the Norfolk Ontario Provincial Police for nearly five years. He said he has always had a goal of making a more positive impact on the lives of those around him.
"Making a positive impact in policing is for me," he said. He said he finally went ahead with joining up with the training program. "Almost a year and a half later, I'm here."
Butler said he was given an opportunity to list his preference for where to serve, and he immediately thought of southern Alberta after falling in love with Cochrane while on a trip several years ago.
"The weather patterns come and go, but the overall feel, and the people in the area, I really enjoyed myself."
He added as far as interests go, he is interested in small watercraft, border security, and working on missing persons cases.
"I enjoy the general duty of policing," he said. "I enjoy being out in the community and interacting with people."
He also said he would be open to the idea of one day heading back to the academy in order to be an instructor himself.
"I would enjoy that as well," he said.
He said his time with the army cadets stemmed from a passion for working with young minds. "I was a cadet, it's an awesome program," he said. He added he is looking forward to getting back into the program in southern Alberta as another way to make a positive impact.
His family is planning to move out with him towards the end of August. He has a daughter who loves horses and a son who enjoys baseball. Between the two of them, Butler said he likes to spend his free time involving himself in their interests. He said his son is used to playing a high level of baseball and is hoping to earn a spot at the Vauxhall Academy of Baseball in the fall.
Butler is looking forward to getting to know more people in the area as he further settles into the routine of policing.
"I'm an approachable guy," he said, adding he hopes local residents will take a minute to stop and say hello."