Co-workers rally for woman's cancer battle
Posted on April 9, 2015 by Taber Times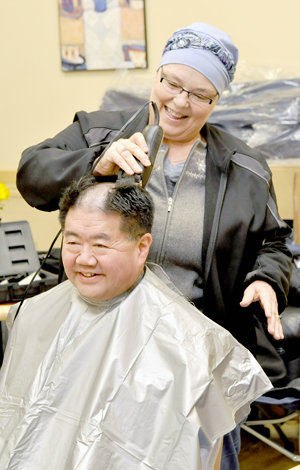 Times photo by J.W. Schnarr
By J.W. Schnarr
Taber Times
jwschnarr@tabertimes.com
A local woman battling breast cancer had nothing but good things to say about her co-workers after a number of them decided to shave their heads as a show of support.
Visitors to the Taber Co-op on March 25 might have seen a large crowd gathered at the front of the store during a charity fundraising event filled with cheers, tears, and laughter, as co-workers of Penny Schafer came together for the event.
Store manager Rod Yokoyama said the event came about after a discussion about a fundraising tie-in with an in-store promotion. It was at that time Yokoyama said the Relay for Life came up, and the battle with cancer co-worker Penny Schafer. Yokoyama said there was interest in fundraising on behalf of relatives of co-workers who had gone through their battles with cancer as well.
"She's been a trooper and she's been out here helping us," said store manager Rod Yokoyama. "She's lost her hair and she's still coming out here, let's do the same thing, so we wouldn't have hair along with her."
Yokoyama said his coworkers are in the process of setting up their own Relay for Life team in order to raise more funds for the fight against cancer. He said he was deeply impressed with how everyone has rallied around Schafer.
"It's amazing," he said. "We're just like a family, and we're willing to do whatever for a family member. People didn't think twice. They just went out to do it for her. It just shows that love for each other."
Schafer said she was surprised when her co-workers decided to shave their heads, a sacrifice she has experienced first hand.
"I didn't want anybody to lose their hair," she said. "It's not fun. But it was very surprising, and I'm definitely touched by the thought. It was a good day."
Schafer has been battling breast cancer since it was discovered in December last year, adding she found out about the disease just two days after burying her father-in-law, who had recently lost his own battle with the disease. She had an operation two days before Christmas last year and has just finished up a recent round of chemotherapy. She said she has five years of hormone therapy still ahead as she continues to fight the disease.
"It wears you out," she said, noting this is the first time she has battled the disease.
"It was not in my family at all," she said. "It came as a surprise, and was discovered by mammogram. Everybody needs to get their mammograms."
She added she has had a positive experience with the healthcare system to this point.
"Cancer has probably affected every family," Yokoyama said. "It definitely means a lot to fundraise for the Relay for Life because we've been affected by it."
"They are the greatest people to work for," Schafer said. "We're all friends there, and we all support each other. Everybody is really encouraging."
Donations for the Relay for Life can be made at the customer service centre at Taber Co-op.