Missionary work takes Lievaart to Kenya
Posted on April 1, 2015 by Taber Times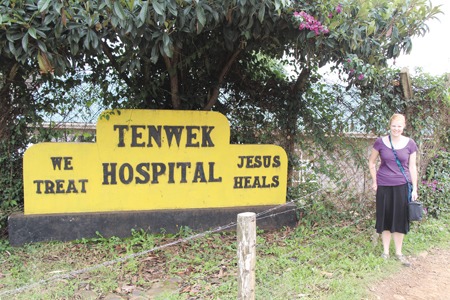 Times photo submitted
By Trevor Busch
Taber Times
tbusch@tabertimes.com
Now back from East Africa following a missionary tour as a respiratory therapist in a Kenyan hospital, Cranford-area native Annette Lievaart is now an experienced resident of the Dark Continent.
"I was working as a missionary at a mission hospital. I worked at a hospital called Tenwek," said Lievaart."It's a 300-bed hospital in a densely-populated rural area, just north of the Rift Valley. So I worked in the hospital as a respiratory therapist, in all the wards. Most of my work was in the ICU, they have two ICUs there, with 13 ICU beds, helping the patients breathe, working with the doctors and doctors-in- training. We have a lot of Kenyan physicians in training there."
Located halfway between the Kenyan capital, Nairobi, and Lake Victoria, Tenwek Hospital is in Western Kenya. Lievaart was working at the hospital through Samaritan's Purse, and had been in Kenya for two years before returning to Canada in February.
When in country, Lievaart is one of only four active respiratory therapists in Kenya.
"I left in January 2013. First I had to do a month of practicums to get my licence. In Kenya, I'm registered as a physiotherapist, and then I did three months of language school to learn Swahili. So I started working in May 2013, and finished last month (February)."
Her impressions of the nation and the people have been overwhelmingly positive since arriving in Kenya.
"Kenya is a beautiful place. The people are lovely," said Lievaart. "I have friends that work in different parts of Africa, and they're not appreciative of being there, and there's always this discord. But in Kenya, we're very much appreciated, and it's a very diverse country."
Outside of the more affluent areas of the capital city, Kenya is not a rich place, according to Lievaart.
"I know someone in Nairobi, and he said Kenya's a rich place, everyone here does very well. But in the village it's a different story. Most of the people that I work with, the nurses and the clinical officers, are working to get food on the table, but most of them have a farm on the side, with beans and corn that they grow for food."
Following her time in post-secondary study for her vocation, Lievaart experienced something of a crisis of faith as to the direction she wanted her life to take.
"I finished school back in 2008, and was working, and thinking now what? Am I just going to go work at the hospital a couple of days a week, or is there more to life? So I started looking at different options. I'm a Christian, and my faith is very important to me, and different options I looked at, it kind of became more apparent that why don't I go somewhere where I can live out my faith well, and help those that need help physically, but also share God's love. That put me on the path of looking at a mission hospital."
There are common respiratory ailments that Lievaart encounters in Africa which are not as prevalent in Western societies.
"There's a lot of TB (tuberculosis), a lot of asthma. There's a lot of COPD (chronic obstructive pulmonary disease) from smoking. In Kenya, it's the grandmas in their homes with cooking fires not ventilated well, and breathing in all that smoke. A lot of my work, because I work in the ICU, is the really sick patients. When you get really sick, and get bad infections, your body just starts to shut down. So that's when we, as a health care team, start to take over."
Common issues include trauma from motorcycle accidents (used commonly as taxis in Kenya), assaults, complications from HIV, meningitis and tuberculosis. There is also the occasional unfortunate who has been gored by an elephant or wildebeest.
Lievaart also noted that as a general rule, patients present later in Kenya, for a number of reasons including the use of traditional healing methods.
"It's a little bit cultural, and a lot of lack of understanding, that this could be bad. There is a little bit of a cost reason. So they'll wait, or they'll go to other hospitals. Some are good and some are not, and it depends who is there and what equipment they have."
Much time is invested by Lievaart in juryrigging and repairing substandard medical equipment in order to keep it running properly. Power, which is inconsistent in areas of Kenya, is also an issue.
"We're often lacking the same equipment that we would have in North America to do what we need to do. We reuse a lot of things, partially because it's cheaper, and partially because we don't have access to it otherwise."
The 28 year old is already planning to return to Tenwek Hospital in early 2016 for a three or four year tour.