Families egg-static about hunt
Posted on April 1, 2015 by Taber Times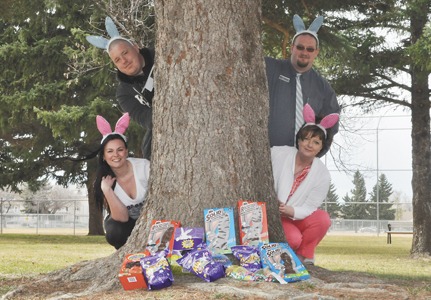 Times photo by Trevor Busch
By Greg Price
Taber Times
gprice@tabertimes.com
There will be a sweet time had at Confederation Park for those kids who want to indulge their sweet tooth at the 17th Annual Easter Egg Hunt on Saturday.
Sponsored by The Taber Times, Taber Co-Op, The Heritage Inn and Taber Kinsmen Club, the event draws hundreds of kids and their parents to uncover many chocolate treats to celebrate Easter weekend.
"I think it's a great thing to see all these kids get together from all walks of life and stampede after these eggs. It's hilarious," said Tyrel McLelland, general manager for the Heritage Inn in Taber.
"Everyone is friends, everyone is family on this day. It's one community. There are groups that don't integrate very often together, but they do come out to something like this and everyone has fun. My son is three years old this year, and I know he is going to have an absolute blast."
Many chocolate treats will be hidden across Confederation Park as youth make their dash from the starting line at 10 a.m. for the shotgun start on Saturday, having registered earlier starting at 9 a.m.
"I can't give you exact numbers, but it has to be thousands of eggs," said McLelland.
"There's not too many bare spots at Confederation Park with an egg on it. There will be also some special eggs hidden throughout the park that could get you a basket donated by The Taber Times or a chocolate bunny donated by The Heritage Inn."
Treats for the parents and adults will be coffee, donuts, and juice, as they can stand and watch their children's frenzied search for sugary treats.
"It was awesome to see almost 400 kids come out last year. It's absolutely crazy when that horn sounds. The kids just scatter and it's literally over in five minutes. It's so much fun," said Amanda Boulay, sales representative for the Taber Times and a co-organizer of the Easter Egg Hunt. "This is something the community looks forward to every year."
Sections of Confederation Park have been divided up for different age groups to explore and enjoy the Egg Hunt so that every child has a fair chance to bring home some chocolate to enjoy.
"We don't want the older kids and the younger kids in the same area, because it is a stampede and there is very little order once that horn blows," said McLelland with a chuckle on the mayhem. "The young kids will get their fair share of eggs."
Extra for the kids include the Taber fire department bringing their trucks out for children to climb into and feel like a firefighter for the day as they ask questions. Sparky the Dog, the Easter Bunny and some of his friends will be on hand to meet the children.
Also, courtesy of the Taber Kinsmen Club are bike prizes for three different age groups for lucky winners who register, along with other prizes.
"We are so appreciative of the other sponsors who help make this happen every year with all the hard work everyone puts into it," said Boulay.