Taber residents hold protest against controversial bylaw
Posted on March 23, 2015 by Taber Times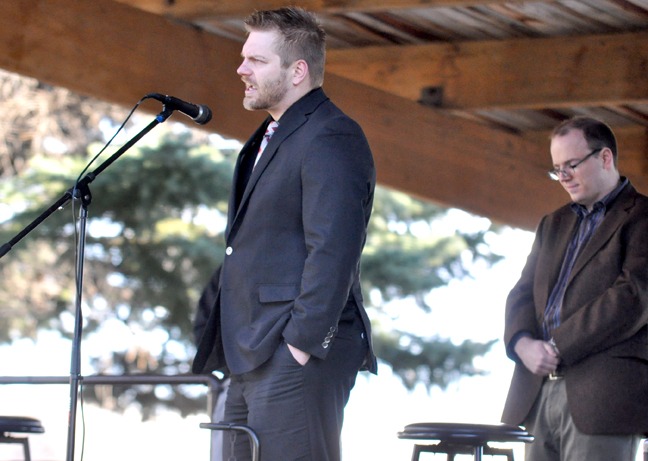 By Trevor Busch
Taber Times
tbusch@tabertimes.com
More than three citizens assembled in Confederation Park to protest the town's controversial new Community Standards Bylaw on Saturday evening, but the Taber Police Service wasn't handing out any fines.
Intense media coverage, as a well as a firestorm of online reaction, has followed the passing by Taber town council of Community Standards Bylaw 4-2015 in late February by a 6-1 margin.
Objections have centered primarily on articles in the bylaw prohibiting an assembly of more than three persons under certain conditions, as well as yelling, screaming or swearing in a public place.
Legal and constitutional experts have roundly attacked both articles as clear violations of the Canadian Charter of Rights and Freedoms.
"I believe this bylaw is unconstitutional, and that the proper approach for the town to take in regards to this bylaw is to repeal it and send it back and re-draft it so it meets with the Canadian Constitution," said local lawyer Dustin Patzer, who spoke at the rally. "As Canadian citizens, we have the right to freedom of assembly and freedom of expression. This bylaw blatantly infringes upon those rights."
Since its passing, the bylaw has inflamed a passionate response from Canadians on both sides of the issue from across the country, including provincial, national, and international media, as well as lighting up the online world through social media such as Twitter and Facebook.
A crowd of 25 came out to the rally on the weekend.
"In this bylaw, the town, instead of impairing our rights as minimally as possible, has gone to the maximum impairment that is possible," said Patzer. "It's not just yelling, screaming or swearing that causes a disturbance that is illegal —it's any yelling or screaming. As we go through each of the sections of the bylaw, they were poorly drafted. They need to be re-drafted so they fit within our Canadian Constitution, and our Charter of Rights and Freedoms."
Local entertainer Bill Lawson, who performed at the rally, encouraged citizens to remember that respect for those who hold opposite viewpoints with regard to the bylaw is vital. Despite this, Lawson was still critical of the actions of Taber town council.
"It's the ideologies that are our opponents, not the people that are our enemies. But it does beg the question, when they put this thing on the books, it was stated up front by our mayor that it was a flawed piece of legislation. It was flawed from the beginning. I ask you, if all it would really take would be an hour in a lawyer's office to make this thing constitutional, and make it work — then why have they so arrogantly dug their heels in, puffed out their chests, pointed their fingers at us and said 'Go away'? I don't understand it, and those are some questions that need to be asked," said Lawson.
Rally attendee Jim Stone said he would have liked to see more people out, and the smaller turnout could be interpreted as support for the bylaw.
"But if they're thinking of it as a win — they won and we lost — I don't think that standing up for what you believe and being vocal about it, taking issue with your leadership, is ever wrong or ever a failure."
Despite an invitation from organizers, Mayor Henk De Vlieger declined to attend the rally to meet with protesters, and no other elected municipal representatives of the town's seven-member council were present.
In a written response to the invitation which was obtained by The Taber Times, De Vlieger had requested representatives meet with the mayor in a closed-door meeting from which the public and the media would be banned, a suggestion which was roundly rejected by rally organizers as unacceptable.
"I came down here for a reason, and I think it's right that all of you came down, too," said Stone. "I'm not anybody special, I just live here. I like Taber, I like it as a town, I'm raising my family here, and like you, I want a safe and reasonable place to live.
"I think that there's a problem with the bylaw. I think that there's a problem with how it was drafted and how it came about, and oversight. I have a problem with what the motivations for it might be. I have some issues with what would seem to me to be the lack of accountability on the part of our council and our mayor. I would have liked to see him out here — I really would have."