Telus connecting Taber to fibre optic network
Posted on March 18, 2015 by Taber Times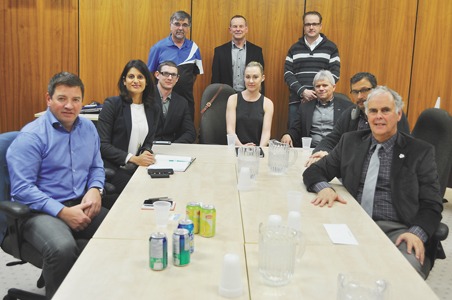 Times photo by Trevor Busch
By Trevor Busch
Taber Times
tbusch@tabertimes.com
Communications giant Telus will be making a $9.2 million investment in the municipality in 2015 as it prepares to roll out a fibre optic network for community.
Selected as part of a Telus pilot project for 2015, Taber will see 90 per cent of homes and businesses be eligible for the upgrade, giving residents access to the fastest internet speeds Telus offers (currently as high as 100 Mbps).
"We've been looking at what it would take to deploy this infrastructure across Western Canada, so we set out a dedicated program to go do this," said Tony Geheran, president of broadband networks for Telus, during a press conference at the Administration Building last week.
"We then looked at communities that had a need, because the infrastructure they had existing was not meeting current customer requirements and demands with speed and reliability. We also looked to find municipalities that were willing to work and collaborate in a partnership way with us, because these builds can be quite complex, and if you haven't got the full support of the city engineering team, and if you haven't got the city backing and encouraging the build, helping to communicate and raise awareness, the sizable investment you have to make becomes even more risky and challenging."
The TELUS Fibre Optic Network is a new network built from flexible, transparent fibres of glass that are slightly thicker than human hair. The fibres transmit data as particles of light, allowing large volumes of information to be sent to your home or business at close to the speed of light.
Geheran assured current and prospective customers that billing via exceeded usage thresholds would not result in bill shock under the development.
"What we are looking to do, because of the amount of bandwidth that gets used now by a small majority of users — typically either gamers or businesses that have significant upload or download requirements. They tend to be very consumptive of bandwidth. We've looked at a way that we can charge fairly and competitively for usage, but the average user probably won't even experience that. Probably 80 per cent would be unaffected. We really want to avoid bill shock. We don't want people to get excited and then be horrified by their first bill."
If connected, residents and businesses will have access to Internet at maximum speeds, Telus' Optik TV offerings, and the network will enable faster uploads, file sharing and online collaboration.
Door-to-door representatives will visit every premises in a given neighbourhood to request permission to have a fibre optic network connected directly to homes or businesses. During the fibre-build program, the fibre connection will be completed at no charge and with no obligation for residents to purchase services.
There will be no cost for installation while Telus employees are in the community building the network.
The infrastructure investment is substantial, and the cost of rolling out a fibre optic network is significant, but Geheran indicated Taber's pilot project is part of larger initiative for Telus.
"We have an active plan. It's a very expensive activity, these builds. As I said, it's $9.2 million for the build here. So you can gauge that by the population — it's quite an expensive endeavour. We're looking at what we can afford to do on an annual basis, and we're looking to find the best opportunities in terms of communities, where there is a mutual desire to go make this work. But our objective over time is to get as much of Western Canada connected to fibre as possible."
Faster Internet delivers business efficiencies including quick upload speeds, file sharing, online collaboration and Cloud capabilities. Businesses will be able to operate locally and compete globally regardless of their size and location.
Telus assured current customers that at the present time, there are no plans to require customers to switch to the new network, and the existing copper network will continue to function.
"We already have businesses in town that are keen on this, because they already use more, dealing all around the world, and they need better Internet connections. So they're getting on board right away," said Coun. Joe Strojwas.
Telus has created a unique website for the community where residents can learn more about the Telus Fibre Optic Network, get updates on when the fibre optic network will be available in their neighbourhood, and sign up to receive updates and more information. Visit telus.com/taber.
"It's really a first step towards a fully digital economy, or a smart city," said Geheran."We really want to help communities that have taken advantage of the investment to identify the unique applications or solutions that will work for them. We think it will attract inward investment, retain or attract knowledge workers that can now work remotely and tele-commute with the bandwidth needed to do that effectively. In the longer term, you can retain and keep young people in the community because now there may be opportunities in the community that there otherwise wouldn't."