Local students sending donations to Ecuador
Posted on March 11, 2015 by Taber Times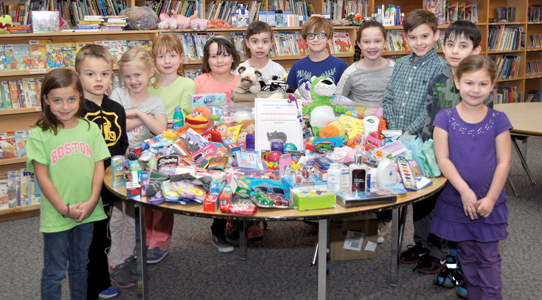 Times photo by J.W. Schnarr
By J.W. Schnarr
Taber Times
jwschnarr@tabertimes.com
Students at Dr. Hamman School are learning to be good global citizens by sending a mountain of toys and necessities to an orphanage in Ecuador.
The students collected the items to send along with former Dr. Hamman student Michaela Anderson, who was set to travel to Ecuador on Monday with a program called OSSO (Orphanage Support Services Organization) to care for newborn babies and toddlers.
The donation is the culmination of a project at the school, which teaches the students about citizenship, both locally and in a global sense. Grade 1 teacher Jocelyn Steinborn and Grade 3 teacher Christy Garner both are involved with the project, which is planned out by a larger committee involving all staff.
"This year, we're targeting a book called, "Horton Hears a Who" and a quote we've taken from the book – 'A person is a person, no matter how small'," said Steinborn. "We've taken that quote and applied it to our school setting. So even though we are small, our school, and our children, we can make a big impact."
Students were asked to each bring an item based on a list of items which would be useful to children in Ecuador. The list was compiled by the orphanage in Ecuador where Anderson will be volunteering for the next three months.
"She's going to deliver all the items to the orphanage in Ecuador," said Garner. "We kind of thought it fit with our little people helping other little people."
The school has participated in a number of projects reinforcing the idea of citizenship on students. Earlier this year there was a drive to help the local food bank. Garner said a school family is also selected at Christmas for help with gifts and to be sure their basic needs were covered.
During the flood in the Philippines, students raised funds which were sent over to help with relief efforts, and this year students collected school items for children in Guatemala.
Garner said the ideals put forth in the official school motto guide them.
"The saying at our school is doing the right thing when no one is looking," she said.
The project culminated with the entire school coming together to enjoy the film, "Horton Hears a Who" and to eat popcorn.
A large part of the curriculum for students of all grades in social studies and health is learning about global citizenship. Garner said while the students may not fully understand the concept of the term, they can learn what it means through their actions and through mapping and learning about other cultures.
Steinborn noted the students in Grade 1 move through different levels of understanding, beginning with who they are in respect to themselves, then their families, their schools, their province, and their country.
"Those ideas are very difficult for a six year old," she said. "But it gives us more opportunities to show mapping. You can say, 'this is us, and this is where we are sending our goods.'"
Steinborn added the fact Anderson is a teenager, and an age many students are coming close to being, or that they are excited to be one day, is an important part of the process.
"Just that (Anderson) is a teenager, and (some students) are not that far from being teenagers. I think what that does is it plants a seed to say, 'this might be your life direction.'"
"When the flood happened in the Philippines, many people were saying, 'Oh, that's so sad'," said Garner.
"But even though we are small, a little tiny school in Taber, what can we do? Then we did something about it."
"It kind of makes the kids realize they can do something about it," she added. "One little thing I do, and the more of us who do it together, that makes us global."
For more information on OSSO, please visit their website at http://www.orphanagesupport.org