Fire engulfs barn near Barnwell
Posted on March 11, 2015 by Taber Times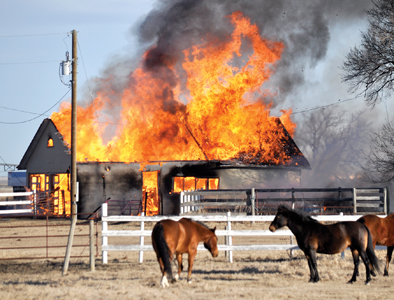 Times photo by J.W. Schnarr
By J.W. Schnarr
Taber Times
jwschnarr@tabertimes.com
An early morning blaze on Monday caused an estimated $100,000 worth of damage.
Fire crews responded to the call shortly after 9 a.m. Monday morning and found a barn located on a property two miles west of Barnwell on the north side of Highway 3 engulfed in flames.
Fire crews worked to contain the blaze, but it was pushed into some dry, tall grass by a west wind before they managed to get it under control.
In all, two trucks, a wildland unit, a water truck, and 10 fire fighters took part in the effort.
"The winds were playing havoc out there," said Taber Fire Chief Steve Munshaw.
The fire department would like to remind local residents as they enter the spring burning season to be extra cautious, and pay attention to burn bans or the details on their burn permits. With the arrival of warm, dry winds, it can only take a moment for a serious fire to occur.
The cause of the fire is still under investigation.
To see video of the fire, please visit The Taber Times Facebook page.