Bikman talks provincial budget
Posted on March 11, 2015 by Taber Times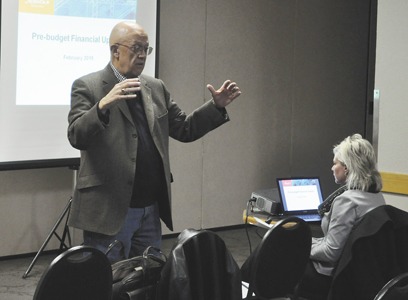 Times photo by Trevor Busch
By Trevor Busch
Taber Times
tbusch@tabertimes.com
A number of key issues were raised by constituents with Cardston-Taber-Warner MLA Gary Bikman at a Budget 2015 open house last week as the province struggles to deal with a looming fiscal shortfall.
Speaking at the Heritage Inn to a small crowd of attendees on March 2, Bikman pointed out major structural changes to the way the province approaches spending must be considered if Alberta is to begin living within her means.
"This situation that we're in didn't happen overnight," said Bikman. "It's been going on a long time, and we've got to redirect that ship. This isn't a speed boat, it's a battleship, and it takes miles to turn around and change direction. And we need to make a 90 degree turn. If it's just a course correction, that's a little easier to do. We need to make them over time so we don't capsize or stop forward progress, but there are definitely some of those changes that are coming — tough, tough changes — done hopefully as gently, and as timely, and cadenced as they can be."
Town of Taber Coun. Joe Strojwas, who attended the meeting, criticized the province's education system as unable to provide the education that workers need to join the provincial labour force.
"Our education system needs a complete overhaul. We build these great big fancy Taj Mahals for our kids right from Kindergarten on up to university. Universities are filled with academics, and yet we import skilled labourers from other parts of the country and other nations in order to fill skilled labour jobs. We don't have a proper education system to fill the jobs that are required out there for skilled labourers. The whole education system is set up wrong because we're pushing academics on our kids rather than focusing on the skill set that they need at a younger age level, and develop that where they can get and maintain jobs, and work in those types of jobs that can become fulfilling for them."
Bikman appeared to agree with Strojwas' assessment, suggesting Canadian youth should possess an improved work ethic bred through the education system.
"Absolutely. And it's the system, isn't it? There's nothing genetically wrong with Canadian kids, that somehow people from other countries are superior workers. It's the system. How are we teaching kids to work? Most of us here learned to work on farms or our dad's businesses."
Town of Taber Mayor Henk De Vlieger, who also was in attendance at the open house, attacked the province's public sector union environment as against innovation.
"The unions play an important role in the things you want to accomplish by changing things around," said De Vlieger. "I'm not scared to say that I feel sometimes that the union in education, and also in health care, is holding innovation up. They don't allow it to happen. They're so scared to protect their own little environment. I think it's too bad, because there are a lot of new ways of doing things that could be done, but there's too much pressure against it. I don't know how it's going to play out with budget constraints, but something has to change on that side."
While offering a nominal acceptance of De Vlieger's comments, Bikman noted that difficult barriers exist against reforms that will have to be tackled head on in future.
"It's a discussion that needs to be had, and I believe that the premier is committed to making sure that those kinds of things happen. But their are systemic barriers to that happening — you've identified a couple of them — I'll admit that they're there, and the premier will admit they're there. I want you to know that he knows that, and he's committed to change the way that government interacts with public sector employees at all levels, including across all the unions that are impacted. There has to be a recognition of the cost of providing these services."
Mayor De Vlieger went on to let fly at the province's judicial system, which he characterized as slow moving and wasteful.
"When I see how much time is wasted in the court systems, cases that have been delayed six or seven times, people don't show up, they have all kinds of excuses. Every time it comes up, the judge has to spend time. I've noticed there's so much waste in that system — it should be looked at, too."
Bikman asserted that judicial reforms could be in offing during the spring session of the legislature which would help improve the current system.
"The Solicitor General Jonathan Denis has talked about some changes that he advocated that will probably be included in some legislation this spring to streamline some aspects of that. But it has to be looked at, and I think we will see some improvements, but it won't be a u-turn right now, there will be some course corrections and some changes."