Sowinski earns Senior Citizen of the Year honour from Kinsmen Club
Posted on March 4, 2015 by Taber Times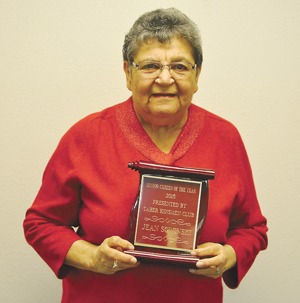 Times photo by Greg Price
By Greg Price
Taber Times
gprice@tabertimes.com
Jean Sowinski may have won Senior Citizen of the Year as presented by the Kinsmen Club of Taber last Monday at the Taber Community Centre, but the recognition has been decades in the making with how Sowinski was raised.
"I was surprised and honoured," said Sowinski who was nominated by the Parkside Manor awards committee.
Giving back was taught to Sowinski from a young age, being the 13th of 14 children, going to school in Deterlake, Sask., where walking to school each day included three mile treks both there and back.
Having that many siblings of eight brothers and five sisters, it taught Jean to share, wait her turn and work together in large teams.
"We all had to pitch in somewhere and help around the neighbourhood, and it feels good to help people out," said Sowinski.
"It's good to volunteer. You shouldn't always have to be paid for everything you do for a community."
At 17 years old, Sowinski started to work at the Balcarras Hospital as a kitchen's helper, cooking, cleaning and delivering drinks and snacks to all the patients. A volunteerism spirit that has never waned since then.
"Ever since I was growing up, I was taught to help the community," said Sowinski. "Volunteers make good things happen."
In 1972, Jean joined the Ladies Auxiliary of the Royal Canadian Legion and served as first vice, second vice, and president during her time with the auxiliary.
She was also Sergeant-At-Arms, flag bearer, and has canvassed for Red Cross and cancer research.
"I still volunteer and go to my (auxiliary) meetings," said Sowinski, adding she helps with banquets, funeral luncheons and bake sales, along with anywhere else there is a need at the Legion. In 1998, in recognition of 26 years of volunteering, the Ladies Auxiliary presented Jean with a lifetime membership.
Be it Clearview Lodge to call bingo or a helping hand at Linden View or to play crib with residents, Sowinski noted seniors should be respected and be given as high a quality of life as possible.
A devoted member of her church, Sowinski has been an active member of the Catholic Women's League since 1974.
She goes to Linden View where she helps with a church service for the residents with group prayers every second Wednesday of the month. Jean volunteered cleaning the church alter for many years, and was Eucharistic Minister for the church homes, hospital and extended care.
In 1980, Jean received a poppy campaign award for 20 years of service, and a certificate of merit for her long and faithful service to the Royal Canadian Legion.
When her own mother lost her eyesight in 1981, Sowinski became her caretaker for 11 years and also helped daughter Linda mend from a serious accident in 1995.
Linda passed away in 2000, and in that same year, Jean's older brother became ill, and without wavering, Jean began providing care for him with the help of her daughter Shirley, and continues to this day commuting back and forth to Lethbridge to assist in his care.
Affectionately known as 'Jelly Bean' by family and friends, the long-time Taber resident helps out many seniors, driving them to their appointments, along with delivering Meals on Wheels for many years.
The Kinsmen Club has been having its Heritage Supper for 37 years in which Jean has attended the last 12.
It used to be a surprise for seniors in the community to be presented with the Senior Citizen of the Year award, but the format has changed in recent years.
"They changed it because a lot of people weren't showing up who won the award. They told me ahead of time and my daughter helped me write up some stuff (acceptance speech)," said Sowinski.
"It was a really good night with a good supper. And my brothers came in, and I was surprised they were coming. One came from Longview and one from Calgary."