Charity supper serves up some food for thought
Posted on February 25, 2015 by Taber Times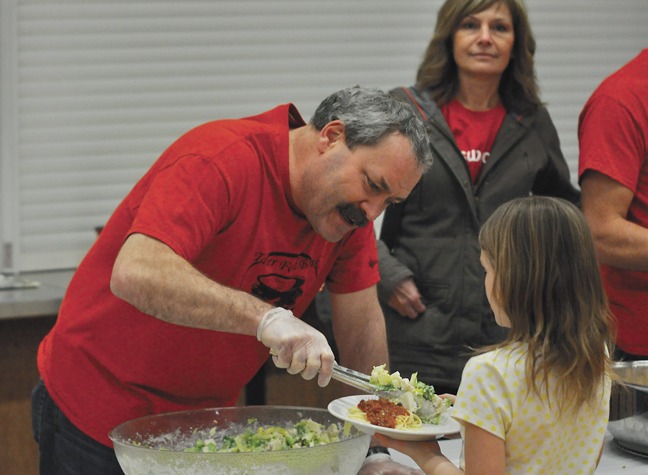 Times photo by Greg Price
By Greg Price
Taber Times
gprice@tabertimes.com
The Third Annual Silent Auction and Spaghetti Dinner in support of the Taber Food Bank on Saturday was the most successful one to date according to one of the co-organizers.
"Every year we have increased by about 20 per cent, so we are quite happy with the turnout this year to see that number rise again," said Tamara Miyanaga, fundraising co-ordinator for the Taber Food Bank Society. "The awareness has definitely improved in Taber. We saw a wide cross section of people attend the supper. However, at the same time we are seeing an increase in the usage of the food bank, so the demands are continuing to rise from that front as well."
Taber Food Bank was able to mobilize approximately 30 volunteers for the event that reached far past drawing from food bank volunteers themselves.
"Some of them came form the board, but we also got some community members volunteer their time and some ACE Place students volunteer their time. We also has whole families come out and be willing to help," said Miyanaga.
Taber Food Bank will be hoping to build on the positive momentum of its spaghetti dinner and silent auction to have people come out for the Taber Food Bank's annual general meeting on March 10 at 7 p.m. at the food bank.
The food bank treasurer and secretary and will be stepping down from their executive positions, but will continue to volunteer at the food bank.
"We will be electing a new member at large. Some of our long-term board members are finishing their positions," said Miyanaga. "Memberships are $5 and will still be available. That membership allows you to get monthly updates and awareness of what is going on at the food bank. That $5 also helps buy food for people. There are always roles for community members. They don't have to have a daily commitment, it could be once a month or twice a year."
After the AGM will be a community food drive at Co-op, IGA and Wal-Mart from 9 a.m.-6 p.m. for collections on March 28.
"We are just grateful for Taber and the surrounding area for their support, not just with food and money, but with the support of our events as well," said Miyanaga.