Hinman seeking Wildrose nomination
Posted on February 12, 2015 by Taber Times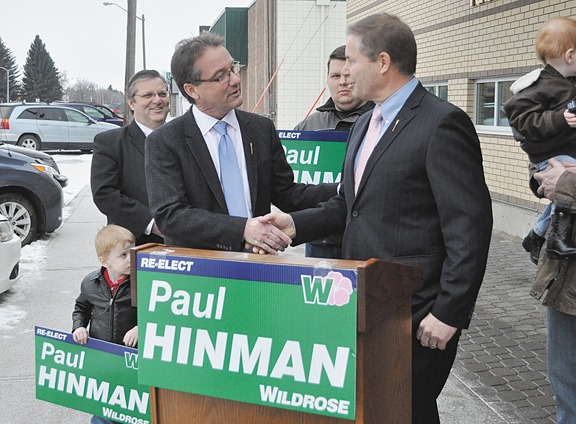 TIMES FILE PHOTO
By Trevor Busch
Taber Times
tbusch@tabertimes.com
Coming at a time when the party's fortunes have been ebbing low on the landscape of Alberta provincial politics, the announcement that Paul Hinman will be seeking the Wildrose nomination for Cardston-Taber-Warner should come as welcome news for supporters.
Making the announcement on the steps of the Taber Public Library yesterday, the former MLA and party leader is confident of his success and of forging a new path forward for the province.
"There's massive infrastructure that goes in for any great building, or great organization, and the Albertans that have come on board — the 442,000 that voted Wildrose in the last election — are still looking, and wondering what's next," said Hinman. "We had a few branches that got diseased, and are looking a little bit sideways where to go. The Wildrose supporters that have talked to me and said Paul, you need to get involved again, is just exciting."
A veteran player on the opposition side of the house, Hinman previously served as MLA for Cardston-Taber-Warner from 2004-2008, as well as Calgary-Glenmore from 2009-2012, after losing a bid for re-election in April 2012.
Hinman was joined by fellow Wildroser and Cypress-Medicine Hat MLA Drew Barnes, who endorsed the former party leader's bid for the nomination.
"I'd very much like to congratulate Paul on taking this step. I'm very pleased that Paul is doing this, putting his name forward for nomination for us again. When I first started in politics about four years ago, Paul was one of my mentors who helped me so much."
Hinman also served as leader of the Alberta Alliance before that party's absorption into the better-known Wildrose Alliance in 2005, and served as leader of that hybrid party until stepping down in October 2009.
"Alberta has had record revenue for seven years, and they say we can't balance our books," said Hinman. "Now we have a major dip in the price of oil, and they're considering what are we going to do, how are we going to face this challenge. Like every crisis, if you weren't prepared before, it's too late."
Ascending to the legislature in 2004 on the strength of a razor-thin 129 vote majority to defeat incumbent PC MLA Broyce Jacobs, Hinman had the distinction of being the first person elected under a fourth party banner since 1986.
"What this government continues to do, even on economic fronts, is they step in and say we'll tax you more, we'll do more — but in High River, they actually prevented people from helping themselves. What we need is less government, and more Albertans being able to do what they want to do, and that's help themselves be peaceful, prosperous and go forward," said Hinman.
Hinman's grandfather, Edgar "Ted" Hinman, served as Social Credit MLA for Cardston from 1952-1967, and 1971-1975, as well as several cabinet positions.
"Alberta needs a choice, they need democratic options, on a different vision of fiscal responsibility and not just spend and tax more," said Hinman. "We need people and troops on the ground again, and I'm excited to be a part of that group that's willing to go in there and work hard on the front line again."
Commenting on the recent defection of the majority of the party's sitting MLAs to the ruling PCs in 2014, Hinman admitted he was shocked and saddened by the departures, which included current Cardston-Taber-Warner MLA Gary Bikman.
"Every case of betrayal is sad, and I, like Albertans, was just shocked at the level of betrayal, and people doing what they do for what I say is political ambition and personal agendas ahead of the people that we're supposed to be serving."
Hinman attacked the "armour" of newly-minted Premier Jim Prentice, confident that cracks will begin to appear in the shining facade of the long-ruling PC government.
"I would say that Jim Prentice is the shiniest knight they've had in while, but his armour is going to tarnish. I think you're going to find that this is the same old beast that is out of control, and the tarnish is going to start showing pretty quick."
While hinting at MLA Bikman's chances at winning a PC nomination battle for the riding — which recently saw Municipal District of Taber Reeve Brian Brewin announce his candidacy — Hinman will take a hands on approach to marshalling votes.
"First, we'll see whether he's successful in winning his nomination. I understand it's being contested. For me, it's about going out door knocking and talking to the people here in Cardston-Taber-Warner, and asking what are your priorities? This is about talking to the people."
When asked why he would consider running for the Wildrose again, Hinman pointed out it is about achieving better results for Albertans in the future.
"It's called principle. It's called purpose. We need a better government. Probably the most exciting thing for me about the last 10 years, is there hasn't been too many problems that I have seen, that I can't say we could do better."
No official date has yet been set for the Wildrose nomination for Cardston-Taber-Warner, and Hinman was unwilling to speculate when the race would commence. But he alerted Albertans to be ready for a rejuvenated and refocused party in spring 2015.
"I think the roots are phenominally strong. It's winter time here in Alberta — wait until you see the re-growth this spring. I'm very excited about it. People are true to the principles, there's reasons why they came over — if you build a better mousetrap, people run to get to it. The Wildrose is full of innovative ideas, and we're going to hold the government to account on fiscal responsiblity and the democratic process."