Master plan takes first steps
Posted on February 4, 2015 by Taber Times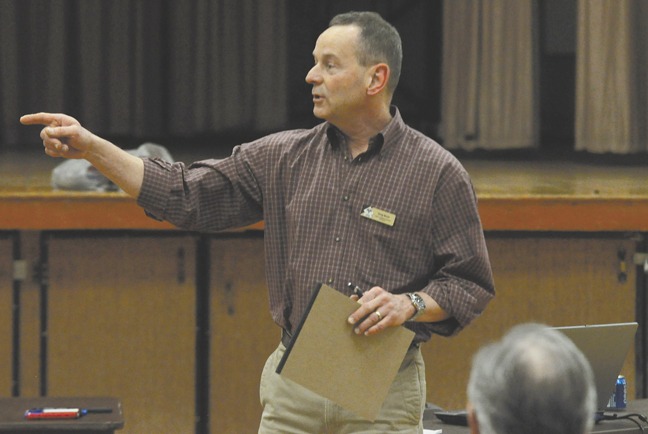 Times photo by Greg Price
By Greg Price
Taber Times
gprice@tabertimes.com
The ground swell of support looks encouraging as the Town of Taber has taken steps toward its first Recreation Master Plan since 1985.
Last Wednesday saw 18 different interest groups and four recreation board members, ranging from the town and the M.D. of Taber take in a workshop to help shape the town's long-term recreation vision.
"From our perspective, we thought it went really well. There was a good cross-section of user groups," said Aline Holmen, recreation manager for the Town of Taber. "That's fantastic. That's what you want, you want as much feedback from different groups as you can get. We got comments of what we are doing well and where we need to improve. I think we got what we wanted out of the workshop."
Administration confirmed things like the auditorium and the ice rink whose refrigeration system has not been upgraded in approximately 20 years, are among the town's more immediate capital plans.
"It's a little too early to sort of put a spin on the recommendations and some of the suggestions, because we are still compiling the total information," said Holmen.
As far as the information from the workshop goes, there seemed to be overwhelming support for the notion of a dry sports facility that was pitched to town council last month. A suggestion of a multi-use facility (21 votes), more than doubled the next closest suggestion by the various interest groups present which included a second ice surface or improved small ice, completing the walking trail to the M.D. Park and completing the fourth diamond and improvements at Ken McDonald Memorial Sports Park with bathroom facilities in the quad, etc.
"That definitely looked like one of the more favoured recommendations, but we still have the household surveys to go," said Holmen.
The next step in the plan is the user group surveys that were issued at the workshop last Wednesday, to be issued to people in various recreation organizations, in which submission deadline is Feb. 15.
There is also a general resident survey that will be issued to the public at the end of February.
"We are working on the details of what that is going to look at and when and how it will be distributed," said Holmen of the general public survey. "We will give them two or three weeks for response time."
The information from both surveys will be compiled where town administration is looking to hold another user group workshop at the end of March or early April with all the data compiled.
"We were very pleased with the feedback we got. We have to keep moving with the process and keep gathering the information and we will determine where we go from there," said Holmen. "People had varied interests (at the workshop) and they were not there for just their particular sport or organization, a lot of them were users of other facilities and had personal interests."