SAEWA membership continues to dwindle
Posted on January 28, 2015 by Taber Times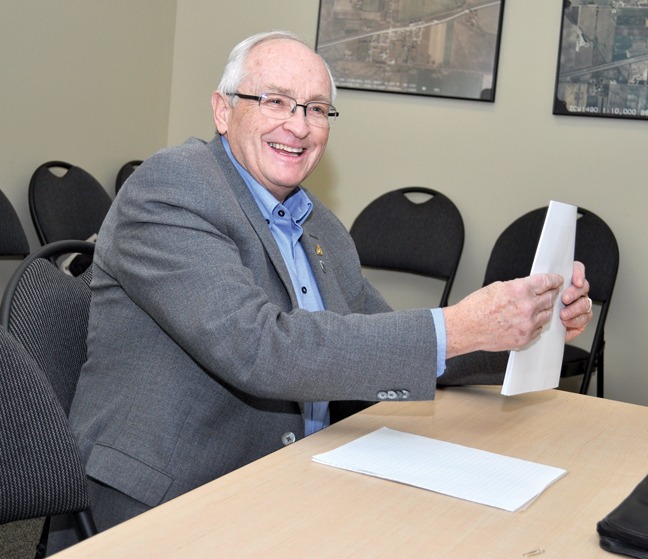 By J.W. Schnarr
Taber Times
jwschnarr@tabertimes.com
It was an opportunity to hear about the latest happenings involving the Southern Alberta Energy from Waste Association, but ultimately Barnwell council decided they'd heard enough of the project – for now.
During their regular meeting on Jan. 15, council heard from Don Johnson, SAEWA representative for the area, to update council on the project prior to making a decision to stay with the program or not. While ultimately they decided against renewing their membership, council was optimistic that their decision could be changed at some point in the future.
"A lot of good things have happened and I'm quite excited, frankly, about what's going on," said Johnson.
Waste to energy programs offer a way for municipalities to eliminate most of the need for landfills by using waste as fuel to create electrical energy which can be resold to the power grid. While the technology is in use around the world, a common complaint is that the facilities can take decades to get up and running.
"Some people are impatient about the timeframe," said Johnson. "But this is a major project and it does take time."
A major benefit of waste-to-energy is how it generates power, often with a large reduction in pollutants and emissions.
"This is a significant aspect with greenhouse gas emission reductions. With every 15 tons of waste you bury you bury 11 tons of (carbon dioxide) with it. With the process we're looking at, mass burn, it generates no carbon dioxide emissions whatsoever. What comes out of the stack is clean and benign."
"Out of these (facilities) you get an ash derivative at the end of the day that can actually be used as an aggregate as part of paving material, those sort of things," he added. "There's a market for that."
Another potentially major benefit to the project would be the ability to trade carbon credits, which could result in a large amount of money raised by the facility on an annual basis.
"If you start looking at carbon credits, we have, with the membership available to us now, approximately 350,000 metric tons of waste available to us in our footprint area," Johnson said. "And that would be a reduction of 3,850,000 tons of carbon dioxide per year. if you multiply that out, carbon credits are trading out at about $15 per metric ton. That will generate just under $60 million annually. That's revenue that will come back to SAEWA."
"I hate carbon credits," he later added. "But if we can make some money off them, let's make some money. And if you can make $60 million a year, that really takes the pressure off the back of the municipalities altogether."
With recent news that the Municipal District of Taber was on the hunt for a new landfill site, Johnson cautioned landfills are difficult to get approval for, and are becoming increasingly difficult.
"Alberta Environment has given some pretty clear signals that they're not willing to approve any more open landfill pits to bury garbage," he said.
While a site for the facility has still not been finalized, Johnson said there have been eight municipalities express interest in hosting the facility, including two outside the SAEWA footprint.
"There's some significant economic benefits that can come with that," said Johnson.
Johnson asked what the cost per ton for waste that Barnwell currently paid, and Turner said about $110 per ton. Johnson said a mass burn facility would cost $58 per ton, and it was likely that recycling would increase.
"Literally, this is a utility," he said. "It's going to generate electricity, and there's going to be considerable revenue that comes back from the various aspects of this thing."
But energy production and reduced waste are just two of the benefits of this type of facility, according to Johnson.
"(M.D. of Taber Reeve) Brian Brewin has talked to me about the possibility of (placing the facility) down in this area, and we've talked about the food processing industry. You can generate steam with this, and you can pipe it up to 15 miles. You can heat homes and businesses with it. You can use it in food possessing. So there's some real value added from that. That revenue of course goes back to the municipalities."
Barnwell is the last remaining member of the local waste authority still a member of SAEWA, after Vauxhall, the Town of Taber, and the M.D. of Taber all ended their membership last year.
"One concerns with SAEWA is they are in year 10 or 12 and nothing is happening,' said Turner. "They have their one or two meetings a year and they spend lots of money promoting it, but they've never picked a site, they've never picked a digester, there's nothing in place."
"I was disappointed, locally, that some members of the waste management authority pulled out," said Johnson. "I think this has significant long-term benefits."
Mayor Eric Jensen said major concerns about the project among some municipalities has been the slow rate that the project has been moving, but also the governance of the project.
"Governance, that's been going on for a long time, and I know that's been a concern for a lot of municipalities, because I know it's taken a long time for that to all get in place," he said. "Sounds like you're almost there."
"As an organization, we can't move forward without the support of our membership," replied Johnson.
In making their decision not to renew their SAEWA membership, council noted the major cities in southern Alberta – Calgary, Medicine Hat, and Lethbridge – had declined to be a part of the project, something they felt could hinder the amount of energy produced by the facility in the long run. Additionally, the number of municipalities which have entered into the project and then left again was also a factor in their decision.
"All of our other partners in our regional waste authority have opted out of it," said Jensen. "I know for a fact not all of the people are sitting at the table two years later."
"Nobody has put a shovel in the ground yet," Jensen added.
"They don't have ground yet," replied Coun. Jane Jensen. "They might not even have a shovel."