Town crews have hands full in snow removal
Posted on January 21, 2015 by Taber Times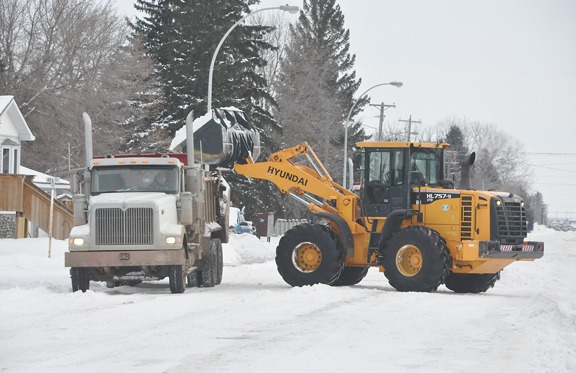 Times photo by Trevor Busch
By J.W. Schnarr
Taber Times
jwschnarr@tabertimes.com
A dumping of snow earlier this month had town work crews scrambling to clean up the roads before the expected rush of warm weather turned it all into a sloppy mess.
However, the town noted the priority streets were cleaned first and were spending their time working on the rest of the roads and trying to clean drain roads and ditches for the following Chinook that blew through.
"All our priority routes are caught up," said Gary Scherer, director of engineering and public works. "And we're working into the areas where people are having trouble getting around now."
Town Chief Administrative Officer Greg Birch said the snowfall and removal efforts were confounded in part by the weather.
"There was a pretty stiff wind from the south on the first couple days," he said of initial snow removal.
"Then it switched around on (the) Wednesday and was blowing from the north. That created different drifting issues, and we'd cleaned up after the wind from the south had died. So we were good after the wind from the south but then that wind from the north put a lot of it back."
"This type of storm happens about once in every five years," said Scherer, noting the normal strategy for snow removal is not as aggressive as it was earlier this month, but the town had received a number of complaints regarding the difficulty in getting around. As a result, they ramped up their snow removal in order to get caught up and to make it easier on drivers. "People just couldn't get around and you couldn't move, so we're mandated to clean up our priority routes."
During the busiest days of snow removal, a total of 20 vehicles were put to use, including:
Equipment hired
one grader; one loader; 10 tandem dump trucks.
Town equipment used
one grader; one loader with a snow blower; one loader four tandem dump trucks; and one skid steer.
On Jan. 12, the town used five tandem dump trucks.
Town crews logged long work days, often 12 to 14 hours, in an effort to open up vital arteries around town. There were 49 complaints received from local residents, most commonly over deep snow, being stuck, and big drifts and ruts in the streets.
During the event, some 25,000 cubic metres of snow was windrowed and removed, at a total cost of $34,130, bringing the cost per cubic metre to $1.37, not including any costs for town staff or equipment.
Birch said one new item in the town's arsenal against winter weather was a new snow blower, purchased in last year's budget. He said the equipment greatly enhanced snow removal efforts.
"This was an initiative of council, so we bought it during the 2014 budget year," he said. "The town has not had (one), and that's changed the dynamic significantly. It allows us to pick up snow two to three times faster, according to our public works employees. That's a big win for us."
With snow removal at a manageable level now, Scherer said the emphasis was on continuing to work at clearing secondary roads while removing as much snow as possible and clearing drainage routes.
"So all of our drainage ditches and the ground itself is frozen. If we don't get rid of the piles of snow that's around, we're going to have the opposite of snow. We're going to have icy roads because it will melt and then freeze at night."
"We've switched to drainage mode," Scherer said. "We want to make sure our drainage routes are cleared so the water runs off into our drains and ditches." He added the weather forecast being what it is, the town has had a difficult time judging how much work needs to be done to make sure enough drainage is provided for the melt.
"We're hoping to get them done by Wednesday or Thursday at the latest. There's still some storm ditches that won't get cleaned, but if we see backups we'll go around and clean them up."
Both Scherer and Birch said it was important that local residents take care in navigating Taber streets, regardless of the level of snow removal in the area.
"Just use caution," said Scherer. "If you see a big drift, don't drive into it. I understand areas are not on it, and your area might not be on it, but we will get to you as soon as we can. We can't be everywhere all the time."
"People must recognize they live in Alberta, and we're in Canada, and being cognizant of that and putting on winter tires helps," added Birch.
"People with all-season tires don't necessarily do as well. If you've never tried winter tires before, you should put them on because they make a big difference."
Birch said the work done around town during this issue has been excellent.
"My personal view is that our crews are doing a great job and working very hard, and the equipment is helping,' he said.
"We were starting to get complaints by the middle of the week (of the heavy snow fall), and that's why we hired the extra equipment. But it's pretty amazing how quickly our crews get out there and look after the snow. I think if you go to other communities and compare, you would see that.
"If you have your car stuck on the side of the road, you are not going to think that. But if you go to other municipalities and see what they are doing, you might be impressed."