Local company on reality TV
Posted on January 14, 2015 by Taber Times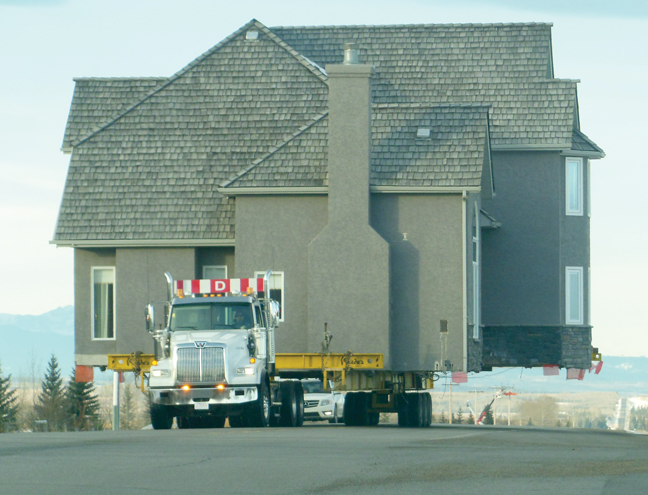 TIMES FILE PHOTO BY TREVOR BUSCH
By J.W. Schnarr
Taber Times
jwschnarr@tabertimes.com
It's reality television, on a massive scale, and it features a local moving company.
Wade's House Moving and Heavy Hauling, Ltd., is the star of a new reality moving show called "Cabin Truckers" on Cottage Life Television.
"The format of the TV series is basically moving recycled homes or new homes to more remote destinations. The main reason being, is that is it very hard to get contractors in remote destinations and because it's so expensive to build in rural areas," said Jaylene LaRose, one of the stars of the show and a co-owner of the company. "We are the mover. It focuses on our business, our family, and Taber, as we're based out of this great little town."
The show airs on Wednesday nights, and is replayed again several times during the rest of the week. Thirteen episodes are planned for the first season.
A Cottage Life Television teaser for the show states, "There's a dream home—and there's a dream location. Cabin Truckers follows the complicated business of hauling colossal cabins across rocky, mountainous terrain delivering precious cargo to families who want a remote, picturesque retreat."
LaRose's father Joe began his house moving business in the 1950s, and she said she and her brothers grew up in the industry.
"Two of my brothers, a great nephew and a few cousins, all work for the company," she said.
Following Joe's death 12 years ago, the company dissolved. Nine years ago, Larose and Kerner decided to join forces and start their own company.
"We put some brains and some brawn together and it works great," she said. "I was never able to be a part of the house moving industry before, because it was always a boy's club. Thank goodness this world has evolved and changed."
She said the bulk of their house purchases come from the City of Calgary, where the housing tastes of the large corporate population create situations where older, inner-city homes are bought up and replaced by new homes. This creates a situation where a lot of older homes that would be demolished can be purchased by the movers and given new life in a rural setting.
"We buy the houses from developers, builders and individuals, we move them, and then they build a dream home on that location,' she said. "We have work in Calgary for the next 20 years at least."
LaRose said the show was pitched to them after their company took part in four episodes of the HGTV show 'Massive Moves' during season three.
"On "Massive Moves," a prior show on HGTV and Detour, we were featured on four of the episodes. Out of the twelve episodes they did, our four episodes got the best ratings," she said. "That's why they approached us to do our own reality show. Wade's (Kerner, LaRose's brother and co-owner of the company) is a bit of a character, and what we do itself is a pretty great thing."
Larose said a major reason she and her brother decided to do the show was because of the educational component to each episode. It is also an opportunity to show people a form of recycling that doesn't immediately come to mind.
"The show is very informative," she added. "It's educational in that it shows people that anybody can do this. It's not out of the realm of the average person. There's so many great houses out there and a lot of them end up getting demolished. They should be recycled. It's such a green thing to do. You save all this material from going into our landfills, when it could be recycled instead and it's so cost effective."
Locally, the 12th episode of the season was originally intended to be slotted for a move featuring three buildings from the Bow River Irrigation District headed to the new Taber Shooting Club facility within the Municipal District of Taber. However, due to permit issues and other delays, LaRose said that move will no longer be featured on the show. The move will be going ahead, however.
"They're all going together," she said.
LaRose said she hopes people will enjoy the show and that ultimately it has been an exciting and hectic experience since shooting began in July of last year.
"It's been a really great experience and we hope we make our town proud," she said.
Cabin Truckers airs on Wednesdays at 7 p.m. on Cottage Life Television. On Telus Satellite, it airs on Channel 641 and on Shaw Cable it airs on Channel 96.