Greeno celebrates being 100 years young
Posted on January 14, 2015 by Taber Times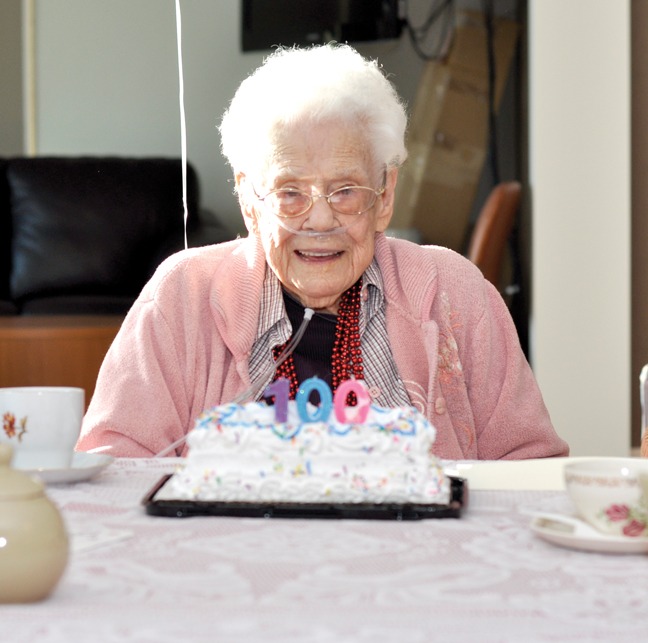 Times photo by J.W. Schnarr
Ruth Greeno says the secret to living a long life is to live it one day at a time.
And after 36,500 days, she could be considered something of an expert on the subject.
Greeno turned 100 years old in the continuing care facility of the Taber Health Centre on Friday, and Taber's newest centenarian marked the day with a special birthday party surrounded by friends and family.
Mayor Henk De Vlieger was on hand to congratulate Greeno on her accomplishment, and to wish her a special happy 100th birthday on behalf of the town.
"We are all very proud of all you have done to help build this country," said De Vlieger. "We hope you enjoy your time surrounded with friends and family."
Greeno was born in Taber on Jan. 5, 1915, to Arthur and Anna Ingram. She grew up on her family's farm in Wrentham with her two brothers, Wayne and Graydon.
Ruth attended Wrentham School and completed Grade 8 before going to work around 15 years old, cooking meals for the working men on the farm where her father was a hired hand.
She was married to Chester on Nov. 16, 1942, and raised four children. Greeno has also been blessed with five grand children and 12 great-grand children. She and her husband worked together to make their Wrentham farm a home, and Greeno took part in everything from preparing meals to driving truck to milking cows.
In her life, Greeno has enjoyed some opportunities to travel, and she and her husband visited England, Norway, Scotland, Australia, New Zealand, the U.S., Hawaii, and Fiji. Closer to home, the pair attended the 1967 Expo in Montreal and the 1986 Expo in Vancouver.
Greeno was a member of the Woman's Circle, and the Lions Club, and volunteered for many years with the Lethbridge soup kitchen and the Wrentham Community Church group.
In particular, Greeno has knitted and distributed hundreds of blankets in the course of her life, and many communities have benefitted from her talents of handicraft and from her kindness.
Greeno has enjoyed many hobbies in her life, including reading her Bible. She has also enjoyed curling, hockey, daily news, and The Sound of Music. She also spent her free time playing crib and solitaire, listening to hymns and music from the 1940s and 1950s, knitting, crocheting, word search puzzles, and has participated in upper body exercises at Clearview Lodge.
In her free time, Greeno enjoys dining out, shopping in Great Falls and Shelby, and camping and touring Waterton and Glacier National Park. When asked how it felt to turn 100 years old, Greeno smiled and flipped an "OK!" sign with her fingers.