New Year's baby arrives quickly in 2015
Posted on January 7, 2015 by Taber Times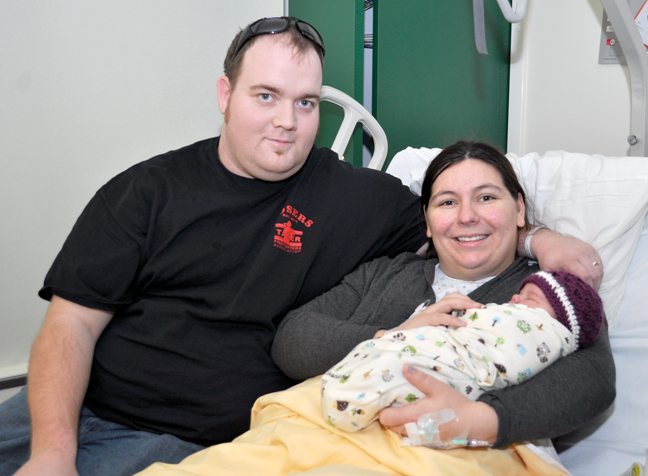 Times photo by J.W. Schnarr
By J.W. Schnarr
Taber Times
jwschnarr@tabertimes.com
It didn't take long and it wasn't much of a surprise, but Taber was welcoming its 2015 New Year's baby while many local residents were still blowing their party horns and kissing their loved ones to ring in 2015.
Malia Jordyn Farough was born at the Taber Health Centre at 12:27 a.m. on Jan. 1, a baby girl for new parents Jesse and Shayla Farough.
Malia came in at a healthy nine pounds, three ounces and was 22.5" at birth.
Malia was originally expected to be a Christmas Eve baby, but when Dec. 30 arrived and still no sign of her, it was decided Shayla would be induced. Eventually, she would give birth via cesarean section.
"She just wasn't coming as quickly as we'd hoped," said Shayla. "I certainly wasn't thinking she'd be a New Year's baby, but she held in there."
While giving birth to the first baby of the year was the furthest thing from their minds on New Year's Eve, Jesse said it became apparent when they were told doctors would have to intervene in the delivery.
"We kind of knew going into the c-section," he said. "There was nobody else here."
"(Having the New Year's baby) is very exciting for us, but we were just excited because she is our first," Shayla added.
"But for how long (the pregnancy and delivery) lasted, we're glad to get that little extra bit of a reward," joked Jesse.
The Faroughs said they were grateful for the care they received at the health centre.
"We had really excellent doctors and nurses helping us out," said Shayla.
"It's was really good of everyone to give up their New Year's plans to help us out."
Now that Malia has arrived, her parents said they can't wait to get home and enjoy being with her. Shayla said Malia has a lot of new family eager to meet the latest addition to the Farough family.
"We were hoping for happy and healthy," Shayla said. "We were willing to do whatever we could to make that happen."