Customer service propels IGA to award
Posted on December 31, 2014 by Taber Times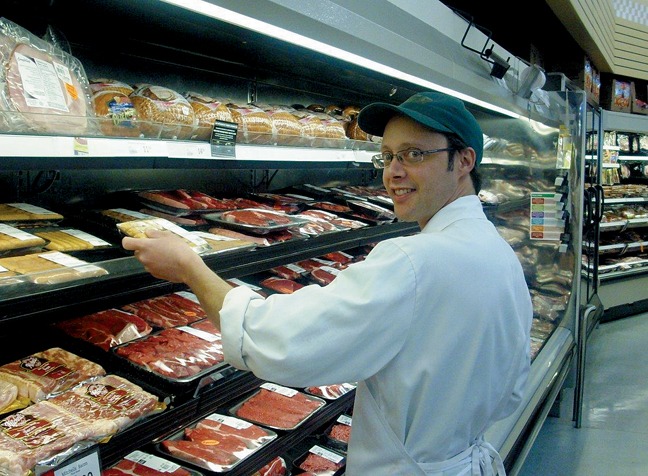 Times photo submitted
By Greg Price
Taber Times
gprice@tabertimes.com
It's been more than 15 years of quality grocery service for Taber IGA under current ownership and that quality has been recognized by the Taber and District Chamber of Commerce with the 2014 Customer Service Excellence Award.
"As far as being in the retail business and especially grocery, I think it's a top honour in my mind," said a beaming Glenn Tams, owner of Taber IGA along with his wife Rose. "It's customer service in terms of the whole staff. It's a team effort between our 40 to 50 staff members. It's a testament to the hard work they do."
It is a staff that takes pride in their job, many of which have been long-time employees in delivering Taberites and southern Albertans their grocery needs.
"Most of the department heads have been at their jobs for awhile. Cheryl (Merkl) has been at the bakery I'm thinking 30 years, longer than I have been at Taber IGA," said Tams.
"Glenda (Oussoren) in produce, the same thing in different departments. We had Taber Food Market (originated in 1984) and she was with us there already. A lot of employees are 15-years plus."
A 30-year veteran of the grocery business, Tams took over ownership of Taber IGA back in Cornfest weekend of 1999 after selling the Shop Easy building (which is currently YPM).
As with any business, IGA has evolved to continue to keep its customers happy.
"For the last number of years, fresh has been the biggest push. For produce we try and buy as much local as possible which we've been doing with quite a bit of success. We have some local meat products," said Tams. "We do a lot of the quick lunch kind of a thing that seems to appeal to people like the rotisserie chicken in the deli. The deli is selling more and more of that type of product. Those ready-to-go meals. We do fresh-cut salads every day."
As good as the product is at Taber IGA, it is the people behind delivering that product that Tams continued to give glowing reviews to. Wander around the various departments and very little time passes before someone is asking with a warm smile and greeting to a customer if they need some sort of assistance. If there starts to be a bit of a wait at a cashier station of customers waiting to get their purchases rung in, extra staff at the registers are instantly brought in.
"The bottom line is focusing on the customer. At the end of the day, they are the ones paying the bills," said Tams, adding a good business needs good staff and loyal customers. "We have a policy if there is more than one person at the till, we make sure we get another till open right away. No one wants to be in a long line up waiting."
No business is perfect, but as Tams points out, staff at Taber IGA prides itself to stay on top of any mistakes that may be made.
"We make mistakes just like everybody else. But we try and make it right and resolve any issues right away, as soon as possible," said Tams. "Sometimes an apology is all that is needed and sometimes you have to go a little further than that. But, for the most part, I think we get issues resolved to everyone's satisfaction."
A very community-minded business, Taber IGA supported over 60 separate causes in 2013 and those are only the ones the company actively tracked.
Tams noted IGA is honoured to be among the winners set to be honoured at the Taber and District Chamber of Commerce Annual Dinner and Awards Night on Jan. 16 which include Baldry Sugden (Small Business of the Year), Darla Machacek (Outstanding Citizen), and Taber Spray Park Committee (Spirit of Taber).
"I've always been a big supporter of the Chamber. And it's not just businesses in Taber, but the surrounding area as well. Their awards are a nice little balance showcasing a lot of things," said Tams.