Baldry Sugden earns business honour
Posted on December 23, 2014 by Taber Times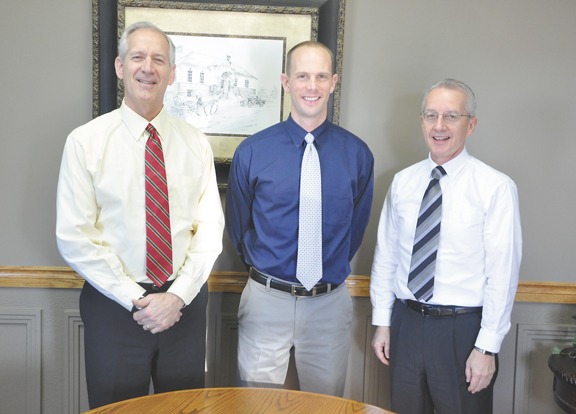 Times photo by Trevor Busch
By Trevor Busch
Taber Times
tbusch@tabertimes.com
Long-standing local law firm Baldry Sugden LLP has been selected as the 2014 recipient of the Taber and District Chamber of Commerce's Small Business of the Year.
Partners Richard Sugden and Mark Baldry will be accepting the honour on behalf of the firm at the chamber's Annual Dinner and Awards Night hosted on Jan. 16, 2015.
"It's an honour, and we feel that it is an honour," said Sugden.
"We're a little bit surprised — actually maybe more than a little bit surprised. It was my perception that the business of the year award usually went to somebody in the retail sector, not professional offices, but we're okay with it."
A full service law firm offering a complete range of legal services to individuals, corporations, institutions and government in Taber, Vauxhall and surrounding areas, Baldry Sugden LLP has been serving the community for more than two decades.
"It's nice that they've acknowledged, probably more than anything, that we've been together for a long time," said Baldry. "We've been quite involved in the community over the last 25 years, so I guess that's really what this is about is just longevity more than anything."
The firm opened its doors in 1989 when Baldry joined with Sugden to create it. Sugden has practiced law since 1980, and Baldry since 1985.
"Richard was here first in Taber, and he had a sole practice for about five years, and then I came in to run the Peterson-Purvis Taber branch office," said Baldry. "I was there for a couple of years, and then I bought out the Taber Peterson-Purvis practice and started my own practice, and then about three months later Richard and I joined together, and we've been together ever since."
The loyalty of clients to the firm has become a multi-generational affair for the two barristers.
"We've just been overwhelmed by the support of the community, as far as loyalty to our firm," said Baldry. "We've had lots of clients for the entire period of time that we've been together, and it's been very nice. We're now dealing with second and third generation farm businesses, and agri-commercial businesses. We have a nice relationship with the grand dads, the dads, and the sons — and daughters — I'd better not leave that out or I'll be in trouble."
Dedication to quality of service has been a formula that has spelled success for the business since its inception.
"In a smaller centre such as Taber, the quality of your service, in so far as the legal services you provide, is important," said Sugden. "It's also we think important to just try to be human beings and relate to the clients. They're not just an object or a means to making money, but they're people, and we're people, and we try to treat them that way. Most of our clients, on one level or another, become our friends to a certain degree."
Community means more than just a place that you live for the long-time partners.
"We also, over those 25 years, have both been involved in the community in various organizations, and really our practice becomes an extension of our involvement in the community, as opposed to Edmonton or Calgary, where you really have no contact with your clients outside of the office," said Baldry. "We have lots of contact with our clients outside the office. They're our neighbours. So it's a different kind of practice."
In addition to both partners, Baldry Sugden LLP employs six office staff as well as another professional lawyer, Brandon Gibb.
"We're extremely indebted to our staff," said Baldry. "Some of our staff has been with us most of the way, and not only are they great people, but they're very competent in what they do. They've certainly had as much to do with building this firm as we have."
Maintaining strong ties to the community often pays successful dividends for professional services in Taber, according to Baldry.
"The fact that we're here in town — I think that's probably a real key factor is that we live here. Richard has raised a family of six children, I've raised a family of five children. The fact that we are so integrated into the community I think is for the most part a real advantage for us. I think people like to give patronage to people who live here, and support the community."
The firm's competitors in the area are viewed with a welcoming attitude by both partners.
"We've seen the ups and downs of the oil patch, we've seen the ups and downs of the agri-business," said Baldry. "We've welcomed the outside firms from out of town, we feel they compliment what we do, we don't see them so much as competitors. They help provide a service that needs to be provided to Taber citizens."
The firm covers a wide-ranging area of southern Alberta, including communities and their surrounding areas such as Vauxhall (where it maintains a branch office) Rolling Hills, Tilley, Lomond, Bow Island, Lethbridge, and areas extending south to the U.S. border.
"We grease the wheels. We keep things going and functioning smoothly," said Sugden. "People sometimes have problems and issues in their business affairs and personal relations, and our job is to help work out those things and smooth out those problems. Quite frankly, a lot of our work is preventative in that we try to arrange things for people and get them set up in way that they're not going to have problems because they did it right to begin with."
The firm predominantly offers services in the areas of commercial/residential real estate, corporate/commercial work, business-related work, estate administration, and criminal/civil litigation.
"We're fairly non-adversarial in our approach to law. We try to work things out as best we can with contentious issues," said Baldry. "I guess that's our style. That does vary from firm to firm, but I guess it's fair to say we try to help people work things out, rather than duke it out. And that extends to all areas of our practice, I think. For better or for worse, that's one of our hallmarks."