TANGO helps the people of Guatemala
Posted on December 3, 2014 by Taber Times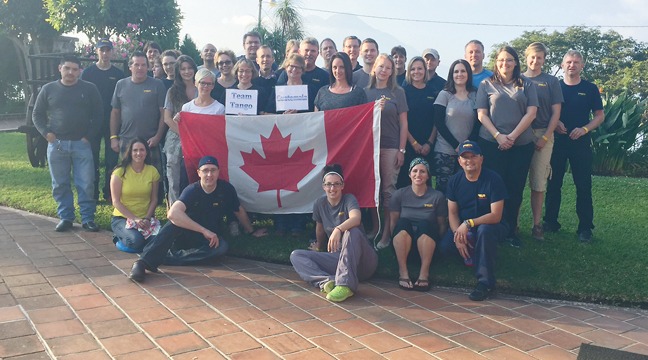 Times photo submitted
By Greg Price
Taber Times
gprice@tabertimes.com
TANGO Foundation (Taber Assisting Nations through Global Outreach) has returned from another successful aid mission.
Last month, 32 people from southern Alberta, many of them Taberites, returned from Guatemala, serving under Project Salud y Paz. Guatemala is the second poorest country in the world as the nation drew the attention of TANGO in addressing the greatest needs where their services could be used in their humanitarian effort.
"We did general surgery, minor surgery, and cataract surgey;,we had dentists, optometrists, pharmacists, and we had a construction team," said Dr. Ryan Torrie, a local physician and member of TANGO, adding school supplies were also given out to needy children.
"We gave out 400 hygiene kits, with hygiene being a huge problem in some of these areas, we gave out 60 soccer balls, 300 backpacks and at least $60,000 worth of medications and over 400 dental extractions."
It was a whirlwind of medical need TANGO team members were able to aid citizens of Guatemala with.
"The dentist said he would barely do that many extractions in a whole year, and he did that in four-and-half days. Here you try and catch those things early with lots of fillings, but there they were so far gone, they had to be extracted," said Torrie, adding TANGO also helped with 33 eye surgeries, 40 general minor surgeries and nearly 300 clinic visits to go with giving out nearly 700 pairs of eyeglasses.
"Most people came in with headaches, eye problems and some respiratory problems," said Dr. Dave Yamabe who was part of TANGO's mission to Guatemala as well. "A major thing was gastritis with stomach upset. The problem is all they drink there is Coke and coffee. They don't drink water hardly at all, they don't like the taste. It causes stomach problems, it causes bone problems and tooth decay. It's public education more than anything that needs to be done on proper eating. If we go again, I think we need a public health arm to try and raise awareness levels of how lifestyles affect our health. Surprisingly enough though, hardly any of them smoke."
As TANGO was delivering all their medical and construction services in the country, the volunteers had communication barriers that had to be constantly dealt with.
The government is run in Spanish, but work was done in remote areas in which there were Mayan people.
"We had two translators, one to take English to Spanish and then find another translator to take the Spanish to K'iche' (Mayan language)," said Torrie.
"In K'iche', they do not have words for certain things so it was a lot longer translation. You would have to describe boiling water, you couldn't just say 'do you boil water'," added Stefanie Nicol who sits on the board of directors for TANGO and who was part of the relief effort as a nurse. "It took a lot longer for the K'iche' translation to come back through Spanish."
There were trust factors that also needed to be built as some residents would almost use the doctor's office as a 'Boogie Man' of sorts with their children.
"They are quite stand-offish when it comes to medical help. As children, parents would threaten then saying we are going to take you to the doctor and they are going to give you a needle. It took a while to build up the relationships so you had that trust," said Nicol. "It took a while for the people to warm up to you, but by the end of the day it was good, but it took a little work."
From just months old to 95 years old, TANGO gave aid to hundreds of Guatemalans, many who have had very hard lives.
"Most of the people look a lot older than they really are. There were 60-year-olds that looked like they were 75 kind of thing because of the things they have had to deal with in their lives," said Yamabe.
What one grandfather had to deal with in his life was never being able to see his grandchild with his own two eyes because of cataracts. But mere days later, thanks to the skilled hands of TANGO surgeons, family time became that much more special between grandfather and grandson.
"They did one eye on the Monday and the other one on the Wednesday and he came in blind with a cane and a couple days later he was seeing 20/20," said Torrie. "Cataracts are the number-one cause of blindness in the Third World and it's a simple fix, like 15 minutes an eye."
In was shocking to see how they lived for first-time TANGO member Joanne Gyepesi, where the first instinct is to feel sorry for the Guatemalans. But that feeling quickly faded for seeing the utter joy that was all around.
"They are all happy. The things we take for granted, we had one mom where we brought bubble gum in this tub and we were looking for somewhere to throw it out, but she wanted that tub. Where we would just throw it out, everything means something to them," said Gyepesi. "Every community we went to everyone supported everyone. There were kids who helped great grandpa get fitted for glasses. It was awesome."
Gyepesi found the whole experience surreal where she feels she got more out if it than she gave.
"Kids are a big thing for me and everyday I found a kid I connected with," said Gyepesi. "I didn't know what I could bring to the table, but once you get there, you realize you have a lot to bring to the table. Dental may need you to help hold a child during a procedure, or if pharmacy needed something. I wasn't going to go thinking 'what do I have to offer, I work in an office' but anybody can go and do a lot of things to help."
The next relief mission for TANGO will be in October 2015 in Peru.
"We are going to cycle our efforts. Because our group is huge, not many places can accommodate us, but the impact is huge with all the different surgeries and the medical and the dental and the pharmacy," said Torrie.
"We want to build long-term relationships in making a long-term difference. We are going to rotate through the same places. It's Guatemala this year, then Peru in October 2015 then back to Fiji in 2016. We will have three main hubs and then take smaller trips with few people to other areas when the need arises with some special requests. We can only take our whole crew once a year because it's a huge effort. There has been some interest to go to Haiti, Philippines, Mexico and the Dominican Republic."
School supplies that were handed out by TANGO were thanks to the tireless fundraising efforts of Dr. Hamman, L.T. Westlake and Barnwell along with local businesses donating for the hygiene kits.
Right now the big fundraising push for TANGO is to get its own cataract surgery equipment, portable dentistry equipment and portable optometry equipment.
For more information on the TANGO Foundation, please visit http://www.thetangofoundation.com or visit the organization's Facebook page.
Taberites that went on the TANGO voyage were Angeline Abela (Paramedic), Gerard Dupuis, Nelly Dupuis, Joanne Gyepesi, Tabitha Johnson (Registered Nurse), Kristy Johnson, Tyler Johnson (Dentist), Chris Dore (Registered Nurse), Rodney Lee (Pharmacist), Sarah Lee, David Moedt, Linda Moedt (Registered Nurse), Stefanie Nicol (Licensed Practical Nurse), Jon Pack (Optometrist), Olivia Penner (Registered Nurse), Matthew Roberts (Medical Student), Wesley Steed (Doctor), Cynthia Steed, Candace Thurston (Dental Assistant), Ryan Torrie (Doctor), Teresa Valgardson (Registered Nurse), Tonya Torrie, David Yamabe (Doctor), and James Stolk.