MP hopeful Shields discusses new riding with M.D.
Posted on November 19, 2014 by Taber Times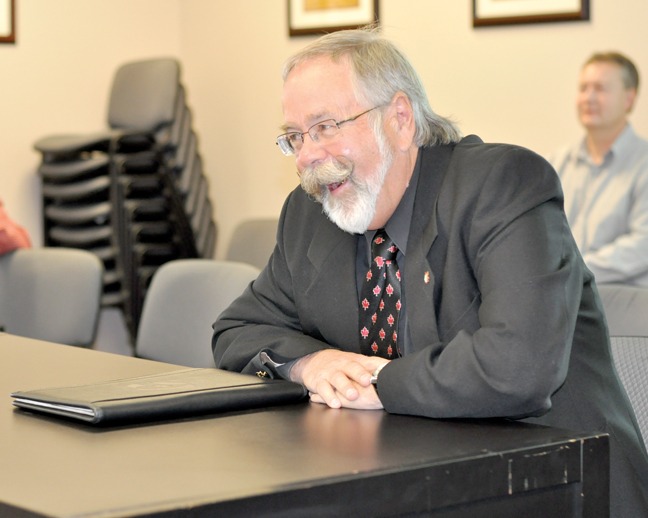 TIMES FILE PHOTO
By J.W. Schnarr
Taber Times
jwschnarr@tabertimes.com
Anyone feeling a little confused about the upcoming federal riding shift which will plunk Taber into the south-central riding of Bow River need not feel alone in their confusion. According to Conservative Party of Canada nominee Martin Shields, while campaigning for the federal party nomination, he carried maps with him to show people where the new boundaries were going to be.
"There's lots of confusion all over what will be the Bow River riding," he said, speaking as a delegation before Municipal District of Taber council during their regular meeting on Oct. 28. "Lots of people don't know what constituency they're in."
"It's a challenge out there for people to understand."
Shields told council the biggest issue was that people haven't yet been exposed to their new riding, and that they are still being represented by their former ridings and MPs.
"People haven't experienced this new riding because they're still connected to their old riding," he said. "LaVar Payne is still the MP, although there was a gentleman who came to Brooks in a large crowd and said he was the MP," he joked, referring to an election claim by Rob Anders, who was defeated in the Bow River nomination race by Shields.
"There's still MPs representing parts of what the Bow River riding will become, and that will be that way until an election occurs," he said.
Once the election is called, which will be October 2015 at the latest, the ridings will then change boundaries and some residents will find themselves in a new alignment.
Shields said until then, he will remain at his current position as a federal nominee and as the mayor of Brooks.
"For the next year I am a candidate for the federal conservative party," he said. "Until that writ is dropped, I stay as the mayor of the City of Brooks."
Shields would then take a leave of absence from his Mayoral duties and would resign if elected to federal parliament.
Shields said the new riding will include the municipalities of the M.D. of Taber, County of Vulcan, County of Wheatlands, County of Newell, The M.D. of Rockyview partway up to the City of Calgary border with Chestermere. It then goes north of Rockyview up to but not including Three Hills, and up to but not including Drumheller.
The town of Taber will remain an important link to the south in the new riding.
"The main centres are Taber, Brooks, Strathmore, and Chestermere," said Shields.
There are some areas, however, that are currently without representation while they wait for the new boundaries.
"Where they are in a bit of a no-man's land is over by Vulcan," Shields said, noting that when John Barlow was elected as an MP to replace outgoing Macleod MP Ted Menzies, he was handed the reins of the newly drawn boundary.
"That was Ted Menzies' old riding," said Shields. "So there actually is nobody there."
"We know there's a strip out there that he isn't responsible for, and I won't be elected for another year, but we both kind of keep an eye on that area."
Deputy Reeve Dwight Tolton said the biggest issue with the riding will be the influence of Calgary-area residents.
'They have no knowledge, and they just don't care about the area," he said, adding the boundaries weren't thought out when they were finalized.