Immunization clinics encouraged
Posted on October 29, 2014 by Taber Times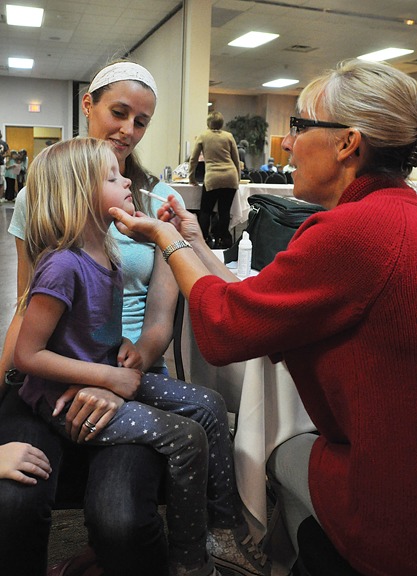 Times photo by Trevor Busch
By Trevor Busch
Taber Times
tbusch@tabertimes.com
With flu season beginning to escalate for southern Alberta, the province is encouraging citizens to take advantage of immunization clinics being hosted throughout the region.
"About 27 per cent of Albertans were immunized last year, and we're trying to get 45 per cent this year," said Dr. Karin Goodison, medical officer of health for the south zone of Alberta Health Services.
Goodison was in attendance at an immunization clinic in Taber last week at the Heritage Inn.
Influenza is an infection of the respiratory track (nose, throat, lungs) that is caused by a virus, and can occur at any time during the year, with most cases coming in the winter months.
"We had about two million doses last year, and there were some issues with running out throughout the season," said Goodison. "This year we've got about four million doses stockpiled."
Influenza is spread through the air, and is spread when someone with the disease coughs, sneezes or even talks. It can also be spread by touching objects that have been coughed or sneezed upon by someone with the virus. Taking preventative measures against infection — aside from an immunization — is your best defence against the flu.
"We emphasize things like cough etiquette, washing hands, and of course getting immunized," said Goodison.
While most people who become sick with influenza get better, influenza causes about 20,000 hospitalizations and about 4,000 deaths in Canada each year. Children 6 to 59 months of age, pregnant women, those 65 years of age and over, and people with chronic health conditions are at a higher risk of developing complications from influenza, which can include pneumonia (bacterial or viral), ear and sinus infections, dehydration, and worsening of chronic medical conditions, such as congestive heart failure, asthma, or diabetes.
The cost of offering free immunizations for Albertans pales in comparison to the cost savings involved in keeping citizens out of hospital care, according to Goodison.
"You have to look at it from a preventative perspective, of the cost savings to the province of keeping people out of hospital and the resulting costs associated with that."
Vaccines undergo laboratory and field testing in Canada, and must pass strict licensing procedures with the federal government before they can be used.
Goodison assured individuals that immunization does not make you sick with the flu.
"One myth is that the immunization actually causes the flu. That's not true. There's no active virus in the shots."
Upcoming immunization clinics in Taber will be held on Nov. 5 (Heritage Inn, 12-6 p.m.), Nov. 26 (Taber Community Health, 2-6 p.m.), Dec. 12 (Taber Community Health, 1-4 p.m.) and in Vauxhall on Nov. 3 (Community Hall, 12-6 p.m.), Dec. 5 (Vauxhall Community Health, 1-4 p.m.) and Dec. 11 (Vauxhall Community Health, 1-4 p.m.).