Taber schools benefiting from provincial funding announcement
Posted on October 15, 2014 by Taber Times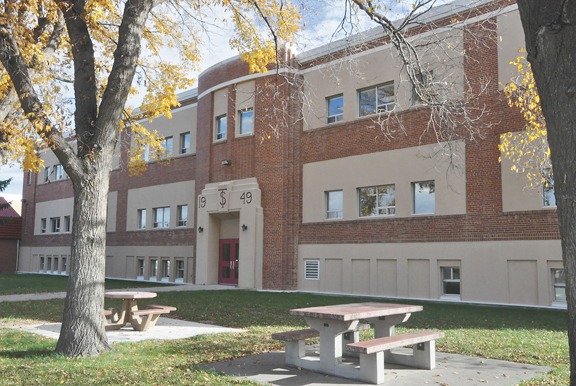 TIMES FILE PHOTO
By J.W. Schnarr
Taber Times
jwschnarr@tabertimes.com
It has been billed as the largest school construction project in Canadian history, and the D.A. Ferguson/W.R. Myers High School complex is going to be a part of it.
On Oct. 10, the provincial government announced an additional $43.2 million in funding to school boards this year for an additional 55 new schools and 20 modernizations. In all, the provincial government has announced 230 capital projects over three phases, which began in 2011.
"Alberta's prosperous future has drawn young families from all over Canada and the world to our province. This government is listening to Albertans and acting quickly to deliver on the priorities of Alberta families and communities," said Prentice.
Phase one was announced in 2011, and included 35 schools. Of those schools, 31 are now complete. Phase two was announced in 2013, and included 50 new schools and 70 modernizations, which the provincial government has stated all but five will be ready to accept students in 2016. Phase three, which was just announced, includes 55 new schools and 20 modernizations.
Wilco Tymensen, superintendent for Horizon School Division, said he is very excited to hear the announcement.
"We were aware of the fact there was a possibility this could be happening," he said. "The fact the government had already announced 150 schools in the last number of years, we weren't expecting another big announcement in terms of modernization for quite a few years. The province, during the election, was going around campaigning, and a lot of the feedback they got was that we have exponential growth in this province and students who have no schools to go to."
"I think the province has stated that education is a priority."
Tymensen said HSD doesn't know yet what the exact details of the modernization will be, but meetings have been scheduled with Alberta Education and Alberta Infrastructure in the coming months in order to take part in a value-management session which will give them a better idea as to what the province intends to do for the modernization.
Earlier this year, schools in Barnwell and Warner were also slated for modernization.
Cardston-Taber-Warner MLA Gary Bikman said he agreed more schools are needed in Alberta, but the timing of the announcement is an obvious ploy by the party in the face of upcoming by-elections. He said the provincial government has done this in the past.
"I'm old enough to know how the game is played," he said. "I'm not normally a cynical guy, but I think the timing is pretty obvious. Prior to the last general election, as part of their campaign promises, Premier Redford promised 50 new schools and 70 new modernizations. The fact is, very few of them have been started, and she said they would be done by 2016."
"Prentice says all of those schools but five will be done by that time," he said. "But our indications say that's just not going to happen."
"But more schools are certainly needed, and modernizations are definitely needed."
Bikman said the government could use money wasted on bureaucracy and put it on projects such as schools to improve the lives of Albertans.
"Will this government and this premier be better than the last one, and be able to keep their promises?" he asked. "I'm a little suspicious. I think it's electioneering."
Bikman said he had prayed to God for Prentice to find some success completing his announced projects and make the lives of Albertans easier.
"I pray for our premier," he said. "We can't wait until 2016 when we elect a Wildrose government to address some of the issues because they're too pressing. I don't want the people of Alberta to suffer, so I pray he succeeds. And our party will certainly work with him to try and help him accomplish these things he's announced."