St. Pat's getting financial facelift boost
Posted on October 15, 2014 by Taber Times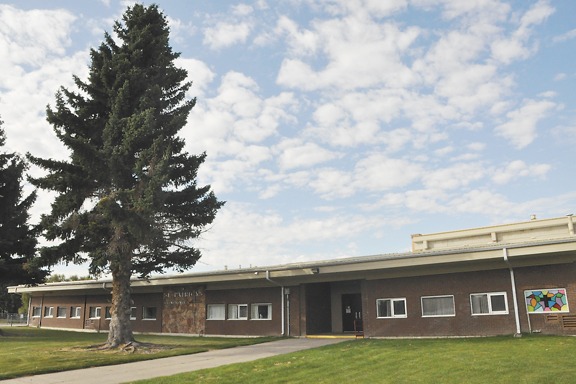 Times photo by Trevor Busch
By Trevor Busch
Taber Times
tbusch@tabertimes.com
A long-awaited modernization for St. Patrick's Elementary School has been announced as part of a $263 million commitment for school projects across the province.
The aging school had been identified as an infrastructure priority for Holy Spirit Catholic School Division in their 2014-2017 Capital Plan. St. Patrick's Elementary School has an enrollment of approximately 200 students from Pre-Kindergarten to Grade 5.
"Certainly we're very excited," said Supt. Chris Smeaton. "That was our third and final priority that we had in our capital plan, and to receive that announcement has certainly been a joyous occasion for the St. Pat's community, because it's certainly a school that requires a modernization."
Premier Jim Prentice and Minister of Education Gordon Dirks made the announcement last week. The new commitments include $43.2 million in funding to school boards this year to begin immediate planning for 55 new schools and 20 further modernizations. The allocation will accelerate projects by up to one year.
While the details are yet to be worked out, Smeaton said he's looking forward to restructuring the existing building to meet the needs of new students.
"There was $2 million put aside for 20 school modernizations, and really what that is, is to start the planning and design phase," said Smeaton. "So I know we're a ways out, but at least we're going to be able to start to do that, and say what would St. Patrick's look like to address the needs of future students. Even though the modernization itself may be a ways out, still the conversation can start to be had, and the planning and design can start to be thought of."
Originally proposed at a cost of $4.49 million in May 2010, the modernization project total for St. Pat's has jumped since the initial submission to Alberta Education. A new cost estimate for the project through this latest round of government funding announcements has yet to be determined.
"They haven't provided any dollar amount," said Smeaton.
"I think that will be really driven by what the plans and what the designs are going to look like."
Built in 1962, with additions in 1969 and 1972, a facility audit conducted almost a decade ago indicated the building condition of St. Pat's was from marginal to acceptable.
"We've had three priorities, and going back to my term as superintendent, those have been the same three priorities," said Smeaton. "We were very fortunate to get the modernization of St. Michael's in Pincher Creek, and the announcement of the new school in north Lethbridge, and now this is the third one, and like I said, we're ecstatic that the province has provided us with three major capital projects."
Albertans will be able to track all school builds and modernizations on a School Program Status report that will be available from the Department of Infrastructure.
All activities related to this consolidated program will be fast-tracked through cabinet to ensure sufficient resources are in place and school siting approval processes are streamlined. In addition, another $100 million has been allocated to fast-track school maintenance projects.
The announcement included plans for 12 new starter schools, dozens of modular classrooms, as well as funding for the planning and design of 55 new and expanded schools, and for planning 20 modernized schools. It also includes an increase to infrastructure and maintenance funding to help school boards address their most pressing deferred maintenance needs. More information can be found at http://www.education.alberta.ca.
A four-member cabinet committee, consisting of Minister of Infrastructure Manmeet Bhullar, Education Minister Gordon Dirks, Minister Diana McQueen and Minister Jeff Johnson, has been assigned to oversee the building of these schools to ensure opening targets are met. The committee will consult regularly with school boards, municipalities and the construction industry to expedite permitting and other approvals, and to strengthen the capacity to deliver these projects to Alberta students as quickly as possible.
"St. Pat's is a school that's over 50 years old, and certainly some of the things that we would like to do in classrooms today in meeting the needs of the 21st century student, it's just more difficult when you think about technology, when you think about flexible living spaces, when you think about collaborative areas, those buildings built 50 years ago, it's difficult to do those things," said Smeaton. "So when I'm looking forward to the modernization, I'm looking forward to looking at a school, and developing a school that really enhances education for our students of the future."