Spray park transferred over to town
Posted on October 8, 2014 by Taber Times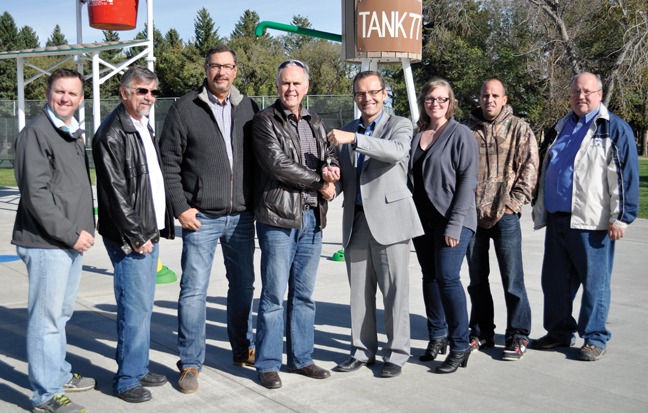 Times photo by J.W. Schnarr
By J.W. Schnarr
Taber Times
jwschnarr@tabertimes.com
A handful of town councillors and members of the Taber Spray Park Committee were on hand last Friday to turn over the keys to the Taber Community Spray Park.
Coun. Jack Brewin said he was impressed with the amount of work which went into completion of the park.
"It's great satisfaction knowing we completed something like this and were able to give it to the town," he said, noting the hard work of the volunteers and the money raised from donators. "We really showed the spirit of Taber. And we showed if we can work together, we'll get a lot done."
Bruce Warkentin, a spokesperson for the spray park committee, said his organization formed with the intent of having a spray park built, and now ownership and management of the facility will be under the control of town administration. He added the facility is an important addition to the quality of life of local residents.
"The main importance is that it's fun and free for families to come down here and enjoy this as a recreational option," he said. "It also shows the ability of the town to get behind a project and make it a reality in a short amount of time."
"So that was exciting, that there was a lot of buy-in to it," he added. "A lot of volunteer hours went in to this, and we're excited to have been part of it."
"It's just a fantastic project."
The spray park committee, through local fundraising efforts, raised more than $300,000 in just over three months earlier this year to help cover costs for the facility.
Warkentin said local children especially had a great time this past summer enjoying the new spray park.
"I think it's really added to the quality of life here in Taber, hopefully for many years to come," he said.
Brewin was presented with a plaque from the spray park committee, in recognition of his work with the park.
"I didn't expect it at all," he said. "It made me feel really good. It made it all worthwhile."
He said local residents have been talking about a spray park for years, and when he came on council, he told them he would make it a priority.
"I told a lot of people that this was something we should pursue," he said. "Seeing how much the children used it this summer, it's a great thing."
"I'm very proud of what the town has done here," he added. "It's nice to see."
Brewin said the park is a good fit for recreation in the area, including the skate park and baseball diamonds.
"With the skate park being right beside us here, the mothers can come and watch their young children in the park while the older children are skating."