Legion celebrating improved cenotaph with rededication
Posted on September 24, 2014 by Taber Times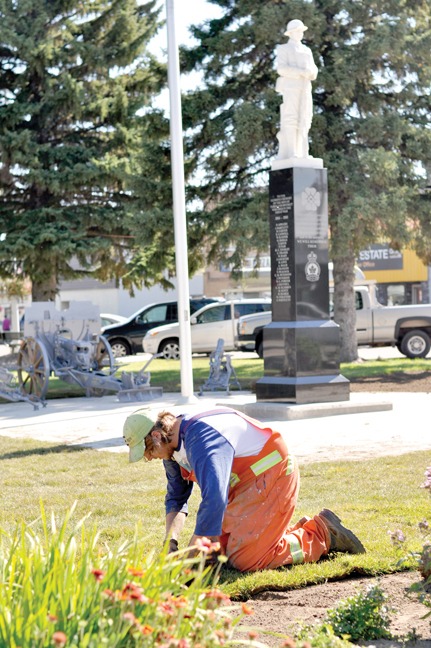 TIMES FILE PHOTO
By Greg Price
Taber Times
gprice@tabertimes.com
Thanks to the efforts of several governing and community bodies and volunteer efforts, the Taber Cenotaph's restoration will be celebrated this Saturday.
In April 2013, members of the Branch 20 Royal Canadian Legion did an inspection of the site at Cenotaph Park and found it needed repairs.
"We've been at it for about a year-and-a-half, and after some hopping around with things like the Lobster Fest, Jail and Bail and the town and the M.D. being very generous, we were able to do it," said Len Barry, chairperson for the cenotaph restoration committee for the Legion, adding other organizations like the Taber Police Service, TCAPS and the RCMP put towards the cause as well.
The Town of Taber and Municipal District of Taber councils were contacted with both contributing a combined $30,000 approximately to the $50,000 project, with the rest topped off with the fundraising efforts of the Legion committee. The original cenotaph project needed two years to fundraise and cost an estimated $3,500 back in 1926.
The old concrete block was taken out and replaced with granite, the captured German guns were restored, and Thomas Love, the soldier figure pictured on the monument was touched up as well.
New sod was put down surrounding the monument along with new sidewalks leading up to it. The finished product was on full display early last week for the new and improved cenotaph.
The scope of the project included constructing a new "mobile" cenotaph for the annual Remembrance Day ceremonies, removal and storage of the existing statue mounted on the cenotaph base, removal and disposal of the existing concrete cenotaph base and concrete walkways to and from the cenotaph, construction and installation of a new concrete base and granite cenotaph, construction of new walkways, re-installation of the existing statue, installation of new brass plaques, and the restoration of the three guns on loan from the Canadian War Museum.
"The bottom half is all granite and the top of course with Tommy (Thomas Love) is all marble and he's been sitting up there for 85 years and now he looks no worse for wear," said Barry.
The rededication ceremony for the cenotaph will involve a Freedom of the Town parade, a street dance and a barbecue of a pig fundraiser where money raised will go towards restoring the headstones of the Second World War veterans in the Taber Cemetery. Legion members will be marching from the YPM building to the cenotaph site at 10 a.m. on Saturday to kick off the festivities.
"A lot of dignitaries and several media have been invited to the event," said Barry.