RCMP celebrating 40 years of women on the force
Posted on September 17, 2014 by Taber Times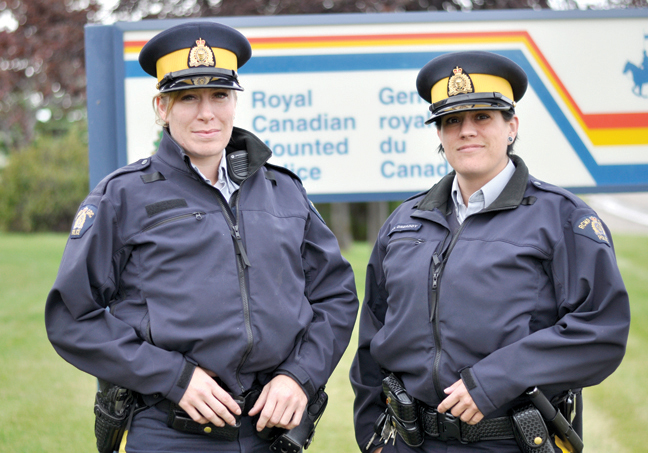 Taber and Vauxhall RCMP members Cst. Melanie Schefter and Cst. Tamara Dreaddy spoke recently on the 40th anniversary of the RCMP allowing women to join the ranks of Canada's federal police force.
By J.W. Schnarr
Taber Times
jwschnarr@tabertimes.com
On Sept. 18 and 19, 1974, the first group of female applicants arrived at the RCMP's training facility, Depot, in Regina, Saskatchewan, to smash down the doors of a male stronghold nearly as old as Canada itself.
Six months later, in May, 1975, the 32 women who comprised Troop 17 were sworn in as Canada's first female Mounties, and history was made.
Four decades later, Cst. Tamara Dreaddy and Cst. Melanie Schefter, two female members of the Taber/Vauxhall RCMP detachment, talked about their lives as part of Canada's national police force.
Schefter graduated on Oct. 15, 2002, and has been serving for almost 12 years. Her first post was in Fort McMurray, where she spent five years, before transferring to Crowsnest Pass for six years. She came to Taber in December 2013, and, as the highest ranking member at the detachment, is currently their de facto leader until an officer can be found to take charge of the detachment.
Schefter said she was looking for a career with a physical aspect to it, and something which would always be a challenge. She never saw herself as a person chained to their desk. Instead, she wanted to get out and experience the world, and help people. Coming from a farming background, Schefter was used to physically demanding work from a young age, and her work ethic has carried on into her policing career.
Dreaddy was born with policing in her veins. Her father was already a member of the RCMP when she was born, and that image of him remained an important and constant part of her landscape growing up. She remembers people coming to the house with police matters, looking for her father. Living in small towns, she was able to get a firsthand view of what community policing looks like for the RCMP.
Dreaddy graduated November, 1996, and has been a member for 18 years. She has seen action in Thorsby Alta., located about an hour south of Edmonton. She also spent time serving in High Prairie and Bow Island/Foremost before coming to Taber, where she's spent the last five years.
"My first post (Thorsby) … I was the first female there," Dreaddy said. "For that post, for that detachment, ever."
It isn't uncommon for the members in any given RCMP detachment to be from drastically different parts of Canada. Dreaddy was born in New Brunswick but grew up mostly in Alberta, for example, though her family hails from Newfoundland originally.
Schefter grew up in Raymond. Both are single moms juggling their careers and their families, Both have come to Taber to be closer to family.
And while Dreaddy and Schefter said they have come in at a time when women in uniform is much more accepted than it might have been in the past, the smell of the old guard, the 'women-don't-belong-here' belief which marked generations past, lingers on the air like the breath of an old meal.
"There's still traces of that old-school mentality," said Schefter. "But a lot of that has been filtered out."
She said cutting her policing teeth in a large detachment like Fort McMurray, she worked alongside a lot of young members with progressive attitudes toward ideas which might have upset their fathers.
"There wasn't that aging population with (that) mindset," she said. "I didn't feel at a disadvantage there, and I never felt held back."
She said working with men and women from her age group, a generation of men and women who were raised on the truth that women and men are equally capable of handling almost any task set before them.
'I've been pretty lucky working with people who are very progressive-minded," she said.
Dreaddy said old attitudes have more often come from the public than the RCMP.
She described an instance during her first posting in Thorsby, as the first female member at the detachment, when older members of the public would come to the counter and ask to speak to a real police officer – by which they really meant, a 'male' officer.
"That was a learning experience," she said. "You could tell that mentality was still there."
"You think there's an old-boys mentality," Dreaddy said. "But when you get right down to it, and you're working alongside these people, vary rarely (did I) see much of that. I've been lucky that way with the people I've worked with."
There have also been issues with people from different cultures, especially ones where women traditionally take a more passive role.
"In my first post especially, there were people not used to seeing a female in this position," said Dreaddy. "I got questions asked of me such as, 'If you were married with children, would you still be a policewoman?' They found it odd."
"I think we've come a long way from how the women in 1974 would have been treated," she said. "But I do know, for sure, that there are instances where I'm giving direction to someone and they don't want to listen until a male officer comes on the scene. Then they'll be quiet, and follow directions, and listen."
Dreaddy said those instances give her pause to think about why those incidents sometimes unfold the way they do, and whether some people are willing to be more belligerent with a female officer or whether a second officer on the scene is enough to make them more open to direction.
"That's something you think about," she said.
Neither officers admit to being bothered much when these situations pop up; their uniform is a tough shell against the world and their skin has grown thick against insults.
"If we were to take stuff like that personally, we'd probably be in the wrong line of work," said Dreaddy. "There's not a lot of people who are happy to see us when we show up somewhere. And that's something you have to be OK with before you join. You have to realize you are not going to be everybody's best friend, or you might not be well-liked because of what you do."
Today, both Schefter and Dreaddy acknowledge the work done by women of the past who laid the groundwork for their careers to be possible, and neither believes they themselves are contributing much to this fight. It's a battle which has already been won.
"I think the women who came before us, the women who fought for women's rights, such as the Famous Five, they laid the foundation for other women to fight for our ability to be here and do the job we do," said Dreaddy. "They did a very good job of that."
"I don't feel like I'm breaking any new ground," she added.
Schefter said she agreed with Dreaddy's assessment.
"I joined well after women started policing," she said. "I think a lot of those kinks were ironed out before my time. We still deal with some things, we hear complaints from within involving harassment in the workplace. Personally I haven't been a victim of that, but it's something we take seriously. We've made a lot of headway about how everyone is treated in the workplace, not just women."
While Dreaddy talked about the support and encouragement she received from a family of police officers, Schefter said for her, things were a little different. She had a hard time convincing her mother that the RCMP was the right career path to take.
"My mother did not want me to join at all," laughed Schefter. "I would have done it years sooner had I managed to get her on board. But it took her a few years to come around. She finally gave me the blessing to do it."
Schefter has two children who, according to her, see their mother as a bit of a superhero. She was quick to point out she doesn't share the more serious or disturbing parts of her job with them, however.
"For them, what I do is all illusion," she said. "They don't get to be part of the reality."
With Dreaddy's children older than Schefter's, Dreaddy said they sometimes pick up incidents in the media which cause them to worry, such as the shooting spree in Moncton which left three RCMP dead and two wounded.
"They didn't want me to go back to work after that," she said. "And every day they tell me to have a safe shift. It's something that's in their mind and they know it's a dangerous job."
For both Dreaddy and Schefter, policing is a career which seemed to choose them as much as they made that choice.
"I can't imagine being anything else," said Dreaddy. "I can't imagine ever doing a different job."