Lots of flexibility at St. Mary's
Posted on September 10, 2014 by Taber Times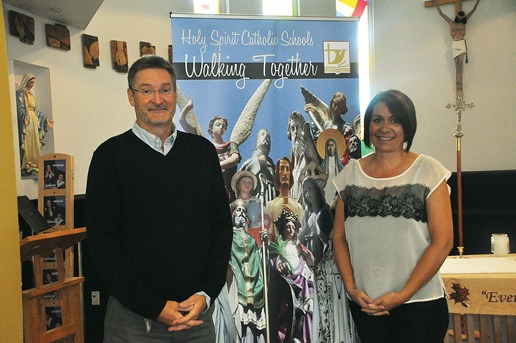 For the 2014/2015 school year, new St. Mary's School principal Randy Spenrath will be joining forces with new associate principal Jodie Gross as administrators at the Catholic school.
By Greg Price
Taber Times
gprice@tabertimes.com
He may be a rookie when it comes to being a principal at St. Mary's School, but he is a grizzled veteran when it comes to Catholic education.
Randy Spenrath is the new principal for St. Mary's School for the 2014/2015 school year, replacing Mike Nightingale who took a position of director of human resources for Palliser Regional Schools.
"I've been here for 24 years," said Spenrath who has spent some time already as associate principal at St. Mary's School previously. "What made the transition quite manageable is the familiarity with the school over those 24 years as a teacher with some as an AP. I know most of the students and it is exciting with the new students coming in whether they be Grade 6ers or new students to our building."
Enrollment is up at St. Mary's School, which is at 257 students for the 2014/2015 school year.
"We've had increases over the last number of years so it's encouraging to keep that trend going," said Spenrath.
Another trend that is continuing at St. Mary's is continuing to build the flexibility project.
"It is a very accepted program by the students. It does meet a lot of the needs in regard to giving students an opportunity to direct their own learning," said Spenrath.
"It's such a big factor for engagement. When you give students the opportunity, and multiple opportunities at that, it builds into what they want to get out of school. A student will get a lot more out of that type of programming."
Two new teachers are coming into the St. Mary's School fold with a truly worldly perspective.
Kira Lawrence will be working with Grade 6-8 students and will be very involved with extra curricular activities. She taught at Catholic Central previously, but last year taught in the Middle East in Qatar. "She's a real spark plug with a lot of energy and brings a lot to the table," said Spenrath.
Lisa-Marie McDonald comes from Ottawa, Ont., where her last teaching assignments were in England and some teaching of English in South Korea.
"They are both so involved in the school life and we are looking forward to their involvement this year," said Spenrath, adding St. Mary's School will also have three intern student teachers.
While not new to Taber, but new to St. Mary's will be associate principal Jodie Gross.
"She taught at St. Patrick's three years ago so she is familiar with a lot of our students. I think she will help make a great team," said Spenrath.
Smaller schools have their challenges in striving to offer as diverse of an education as they can to students, which Spenrath noted St. Mary's does a fantastic job of.
"We are continuing to work with our intervention and enrichment and exploratory programs. We basically offer 36 different options per year for the students," said Spenrath.
"The students choose six of those, but they have opportunities with all 36. It is quite an amazing program. There is definitely something we are offering that the student will find interesting."
Just as with academics, St. Mary's is bustling with its athletics as well right out of the gate in September.
"We are running right now up to 10 sports teams including the Grade 6s. We have two possible Grade 6 teams depending on numbers, four junior high teams and possibly four senior high teams. Our gym is just booked," said Spenrath.